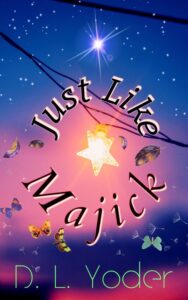 A mysterious figure straight out of a Charles Dickens novel sparks a tantalizing new puzzle for the perennially inquisitive Magdalena Majick in D.L. Yoder's Just Like Majick.
With her keen investigative powers and penchant for bending the rules of police tape and clue recognition, Majick is a charming amateur detective reminiscent of Jessica Fletcher or Miss Marple. The mystery of a shadowy intruder may be romantic, obsessive, or something else entirely, but it is undeniably intriguing, and the swirl of eccentric characters she moves through makes it easy to lose yourself in the tangle. With a touch of magical surrealism and a teasing tension that feels inescapable, Yoder will have readers tied in enjoyable knots by the end.
The relationship between Tiffany and Magdalena is delightful, and being a primarily female-led story is refreshing. The dialogue is believable, the narration is purposeful without oversharing, and the exposition is subtle, patient, and entrapping. The descriptions aren't elaborate, but they are consistently original, and the language is carefully chosen. Though the writing is understated, Yoder moves the plot along with artfully edited passages that are quietly polished and precise.
Weaving a cozy and unpredictable mystery, Yoder has crafted a remarkably addictive tale in this inventive and broadly appealing read.
Book Links
---
Get an Editorial Review |

Get Amazon Sales & Reviews |

Get Edited |

Publish Your Book |

Enter the SPR Book Awards |

Other Marketing Services
(Visited 2 times, 1 visits today)