The $75 million Palo Cristi Estate is the most expensive home to ever be built in Arizona.
Cullum Homes, which has been building award-winning, custom homes since 1985 in the neighborhoods of …
Already have an account? Log in to continue.
Current print subscribers can create a free account by clicking here.
Otherwise, click here to subscribe.


To Our Valued Readers –
Visitors to our website will be limited to five stories per month unless they opt to subscribe. The five stories do not include our exclusive content written by our journalists.
For $5.99, less than 20 cents a day, digital subscribers will receive unlimited access to YourValley.net, including exclusive content from our newsroom and access to our Daily Independent e-edition.
Our commitment to balanced, fair reporting and local coverage provides insight and perspective not found anywhere else.
Your financial commitment will help to preserve the kind of honest journalism produced by our reporters and editors. We trust you agree that independent journalism is an essential component of our democracy. Please click here to subscribe.
Sincerely,
Charlene Bisson, Publisher, Independent Newsmedia


Click here to see your options for becoming a subscriber.
Click here create a free account for posting comments. Note that free accounts do not include access to premium content on this site.

A new home is being built in Paradise Valley's Palo Cristi neighborhood that will cost a reported $75 million.
Cullum Homes, which has been building award-winning, custom homes since 1985 in the neighborhoods of Paradise Valley and Scottsdale, is partnering with WOW Luxury Properties and presents the Palo Cristi Estate, according to a press release.
Led by Rod and Kim Cullum, alongside daughter Lindsay Cullum-Colwell and son-in-law Paul Colwell, the Scottsdale-based builder joined forces with David Hersh and his WOW Luxury Properties on the design, architecture and building of this one-of-a-kind masterpiece home.
WOW Luxury Properties purchased the land last April and immediately partnered with Cullum Homes with the direction to define a next level of luxury in Paradise Valley. The mandate has been to spare no expense in creating a home that is both functional and captures a WOW from every room.
Shortly thereafter, the team selected Desert Foothills for its landscaping with the same mandate.
"We have built some extraordinary homes over the last 38 years, but all of us at Cullum Homes are extremely excited to be bringing this caliber of home to the Valley. With some of the country's most successful entrepreneurs moving here, a lot of them being from California, New York and Chicago, we feel this is an untapped market and this level of a luxury estate is needed," Cullum Homes Co-Owner Lindsay Cullum-Colwell said in the release.
The $75 million estate is one of four homes that WOW Luxury Properties, Cullum Homes and Desert Foothills Landscape are debuting together.

According to a press release, it is reportedly the state's most expensive house.
Hersh said luxury real estate buyers moving to Arizona expect more for their money and that means proper attention to detail and following Paradise Valley's defined guidelines that have made it the top zip code for decades.
"Coming off a spectacular Arizona sports month which included a $4 billion sale of the Suns, Barrett-Jackson, Super Bowl 57 and Waste Management Phoenix Open, it is time to take a new look at luxury in Paradise Valley," Hersh said in the release. "Paradise Valley is the definition of the law of supply-and-demand and there is no more supply. To meet the expectations of the many new residents moving here from around the world, we have challenged Cullum Homes and Desert Foothills Landscape to bring a new vision to Paradise Valley. We are ready now to show the next level of luxury real estate."
This custom home will include the following amenities: 13 bedrooms, 16 bathrooms, eight half-bathrooms, two spa locker rooms, garage space for 15 cars, four kitchens, four wet bars, two outdoor kitchens, one 2-story office/library, a conference room, two bowling lanes, movie theater/metaverse room, spa, home gym, casino room, recording studio, collector's gallery, two story aquarium and an ice cream bar.
There will be seven bedrooms in the main house with four bedrooms in the conference building, one bedroom in the attached casita and one bedroom in the guard house.
The property's spa will feature two locker rooms, sauna, snow room, Vitality Pools and two massage/treatment rooms.
Inside the garage there will be a five-car-garage with a car lift down to nine car collector's garage plus a one car casita garage.
Outside there will be two pools, one is the Cinema pool with a waterfall and large cinema screen. There will be a lazy river, a spa with Baja Shelves, one island green for chipping and putting, three fire pits with an outdoor fireplace, two outdoor kitchens, a stage, waterslide,and a family game courtyard/outdoor lounge space.
Other items that may interest you
Most popular stories in Paradise Valley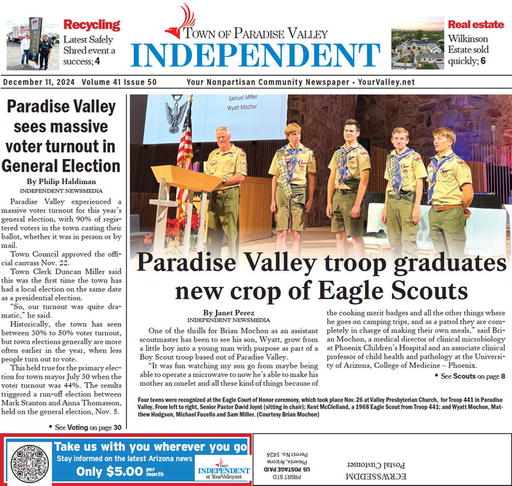 Read the latest print edition here.
View this issue
Browse other issues
Simply submit your e-mail address below, click on the opt-in email link and watch your inbox for news from the Daily Independent at YourValley.net. Thank you for reading!
Aunt Rita's, whose mission is to end HIV in Arizona, announced Stacey Jay Cavaliere as its new executive director. A dedicated and experienced leader in Arizona's nonprofit community, …
The Board of Visitors wraps up 108th Charity Ball
Over 50 Black-owned businesses to benefit from Scottsdale diversity program
Razzle Dazzle playing at the Fountain Hills Theater
A wet winter, blooming spring can spell troublesome mosquito season
4 tips to choose an eco-friendly wine for Earth Month


YourValley.net
623-972-6101
17220 N Boswell Blvd
Suite 230E
Sun City AZ 85373
Email: azdelivery@iniusa.org
(Visited 1 times, 1 visits today)