The deadline to raise the U.S. debt ceiling is approaching faster than expected, with the political uncertainty surrounding when the government's borrowing limit may be lifted already beginning to worry markets, according to Goldman Sachs Group. 
"We have been projecting that Treasury could operate without a debt-limit increase until early August," said Goldman analysts, in an economics research note published Tuesday. "At this point we see a slightly greater chance that the deadline is in late July, but this could easily change to a base case of early June if tax receipts continue to undershoot."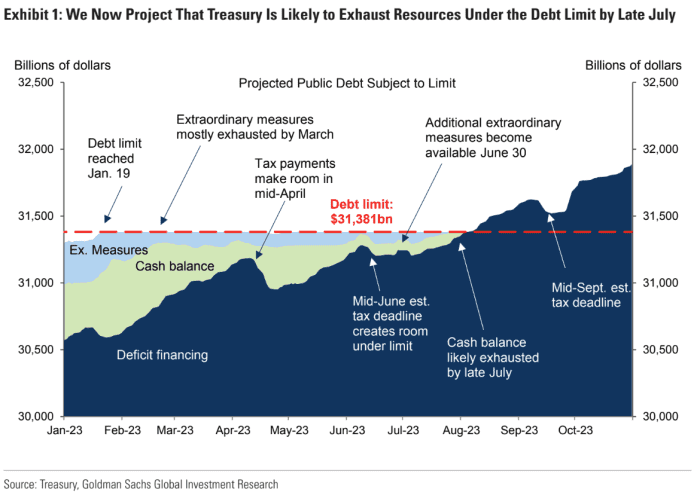 Goldman is expecting April tax receipts to be "weak as a result of reduced capital gains-related taxes," with preliminary data as of April 14 suggesting increased odds of Congress needing to address the debt limit by early June, according to the note.
In the past, financial markets have reacted to uncertainty about the U.S. government's debt limit with "heightened volatility and dislocation of Treasuries maturing closest to the stated deadline," said the Goldman analysts.
On Monday, U.S. House Speaker and California Republican Kevin McCarthy delivered a speech at the New York Stock Exchange, reiterating his call for President Joe Biden to negotiate on raising the U.S. debt limit. McCarthy and Republicans have demanded spending cuts in exchange for raising the ceiling for federal borrowing.
"Speaker McCarthy is holding the full faith and credit of the United States hostage, threatening our economy and hardworking Americans' retirement," White House deputy press secretary Andrew Bates said Monday. 
Read: U.S. debt-ceiling brinkmanship threatens market calm after bout of 'intense volatility' on bank fears
'Eroding market confidence'
The U.S. government is wealthy enough to meet its debt obligations, yet debate over whether to raise the debt limit raises the prospect of a potential default, according to Mike Skordeles, head of U.S. economics at Truist Advisory Services.
"It's all political theater," Skordeles said in an interview Tuesday. "You're eroding market confidence."
The cost of insuring against a default on U.S. government debt has become more expensive, but beyond that, Goldman has not yet seen much evidence of financial markets reflecting debt-limit risks, according to the note. So far, spreads on sovereign credit-default swaps are "the only obvious exception," the analysts said.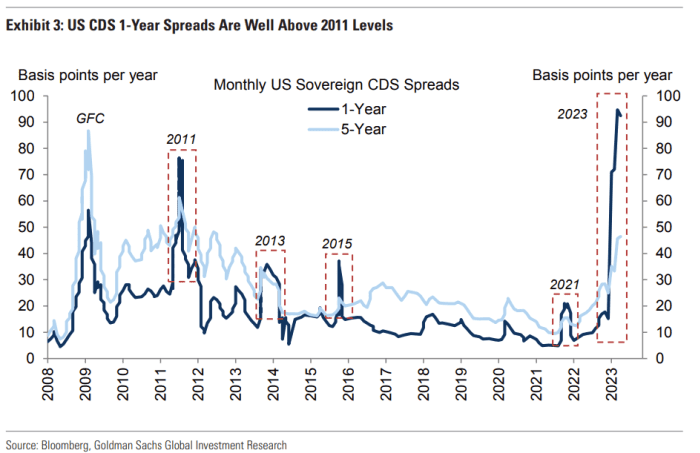 "As the debt limit deadline comes into better focus with additional tax receipt data, we expect to see somewhat greater pricing of debt limit risks in financial markets," said Goldman. "That said, the possibility of a short-term extension — particularly if the deadline falls in early June — might reduce the degree to which market participants engage on the issue."
Truist's Skordeles said he'll be watching for signs of potentially weakened demand for Treasurys in offerings over the summer should the debt-ceiling showdown drag on close to the deadline.
Meanwhile, "stocks of companies with greater exposure to government spending are also showing greater signs of pricing in debt limit risks," the Goldman analysts said. They pointed to a basket of U.S. stocks with at least 20% of sales tied to government spending lagging behind the S&P 500 index by around 9% this year, "following a large relative selloff in March."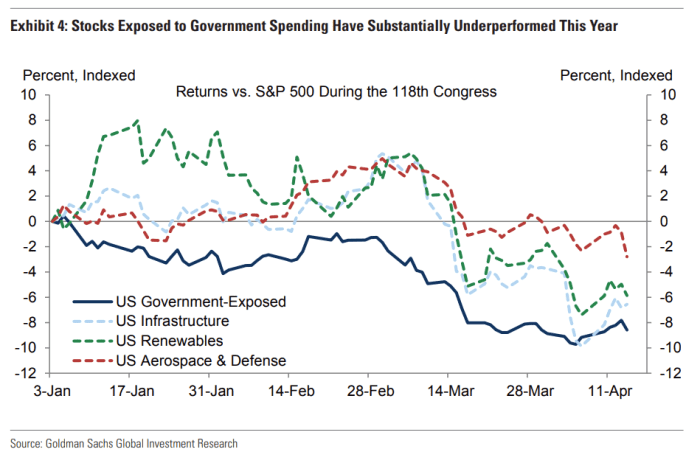 "This might reflect the possibility of spending caps as part of a debt limit compromise," the Goldman analysts said.
Read: 'Dangerous times': These aerospace and defense, cybersecurity ETFs are on 'verge of breakouts'
The U.S. stock market struggled for direction Tuesday, with the Dow Jones Industrial Average
DJIA,
-0.23%
ending with a loss of less than 0.1% while the S&P 500
SPX,
-0.01%
ticked up 0.1% and the technology-laden Nasdaq Composite
COMP,
+0.03%
posted a fractional decline.  
Stocks have rallied so far this year, with the S&P 500 up 8.2% through Tuesday. The stock market's so-called fear gauge, the Cboe Volatility Index
VIX,
-2.20%,
was meanwhile trading around 16.7 on Tuesday afternoon, below its long-run average of about 20. 
In the bond market, the yield on the 10-year Treasury note
TMUBMUSD10Y,
3.593%
fell 1.9 basis points Tuesday to 3.571%, according to Dow Jones Market Data. Two-year Treasury yields
TMUBMUSD02Y,
4.245%
rose 1.1 basis points to 4.197%. 
"While not our base case, a June deadline would make a short-term extension a plausible scenario" for the U.S. debt limit, the Goldman analysts said. 
"We are generally skeptical of reports that congressional Republicans might pass a short-term debt limit extension, as voting to raise the debt limit twice is harder than voting once," they said. But "if the Treasury announces in May that the deadline is only a few weeks away, there would be little time to negotiate a deal and a short-term extension could provide a way out."
Read: Debt-ceiling standoff: Here's what's next as Democrats and Republicans warn about U.S. default
(Visited 1 times, 1 visits today)