Scottsdale is a great place to live work, and play. These factors unquestionably make it easier to chart a strategic path to navigate the variables that comprise our real estate market.
This year …
Already have an account? Log in to continue.
Current print subscribers can create a free account by clicking here.
Otherwise, click here to subscribe.


To Our Valued Readers –
Visitors to our website will be limited to five stories per month unless they opt to subscribe. The five stories do not include our exclusive content written by our journalists.
For $5.99, less than 20 cents a day, digital subscribers will receive unlimited access to YourValley.net, including exclusive content from our newsroom and access to our Daily Independent e-edition.
Our commitment to balanced, fair reporting and local coverage provides insight and perspective not found anywhere else.
Your financial commitment will help to preserve the kind of honest journalism produced by our reporters and editors. We trust you agree that independent journalism is an essential component of our democracy. Please click here to subscribe.
Sincerely,
Charlene Bisson, Publisher, Independent Newsmedia


Click here to see your options for becoming a subscriber.
Click here create a free account for posting comments. Note that free accounts do not include access to premium content on this site.
Scottsdale is a great place to live work, and play. These factors unquestionably make it easier to chart a strategic path to navigate the variables that comprise our real estate market.
This year we have the opportunity to stabilize one of they key factors that builds and sustains communities and our property values: the quality of our schools.
The District Additional Assistance budget override provides funds necessary to support expenditures that cannot be met within SUSD's operating budget due to higher costs of supplies and materials. This includes enhancements to technology, math and science materials, software, desks, chairs, athletic equipment, and library resources.
These are not extras — they are essentials to provide our kids and grandkids the resources they need to excel, compete, and thrive — just as our businesses excel, compete and thrive. Yes on DAA confirms our commitment to Scottsdale's future leaders — and our future as its residents.
The experience and observations gained from purchasing, maintaining, and leasing many dozens of high-end properties in Old Town and south Scottsdale reveal a clear correlation between an investment in schools and return-on-investment on properties.
Of all the local neighborhood amenities that can influence a buyer's decision to purchase a home, proximity to good quality schools is one of the most influential. A 2015 report from the National Association of Realtors stated that 25% of home buyers listed school quality and 20% listed proximity to schools as deciding factors in their home purchase.
Homes in good school districts sell more quickly than those in lower quality school districts. They typically hold their value and command higher selling prices.
Let's continue to invest in growth that we can all agree on — growth in the resources, talent, confidence, and competitiveness of our students. I encourage you to Vote Yes on DAA — starting on Oct. 13 with your mail-in ballot, or on Election Day, Nov. 8.

Other items that may interest you
Most popular stories in Scottsdale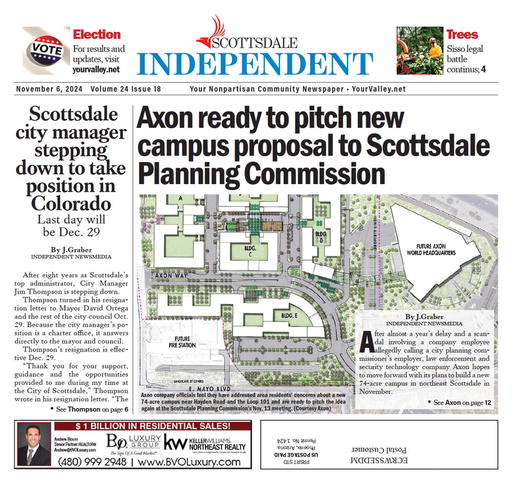 Read the latest print edition here.
View this issue
Browse other issues
Simply submit your e-mail address below, click on the opt-in email link and watch your inbox for news from the Daily Independent at YourValley.net. Thank you for reading!
Sen. John Kavanagh scaled back his bill to handle the visible effects of homelessness before it was able to win legislative approval, but this week Gov. Katie Hobbs rejected it, saying it did not …
Poolwerx, Goldfish Swim Schools team up for free swim lessons
Scottsdale Art's 'Diversion: Recycled Textiles to Art' tackles global garment waste
Breaking up with friends: How to know when it's time to move on
Scottsdale teen lives up to namesake with 'We Kingz Bro' business
Leading an active life every day of the week: 4 ways to work out with your dog


YourValley.net
623-972-6101
17220 N Boswell Blvd
Suite 230E
Sun City AZ 85373
Email: azdelivery@iniusa.org
(Visited 1 times, 1 visits today)