A principal at a charter high school in Florida recently resigned after sending $100,000 in school funds to an Elon Musk impersonator. And she's just one of over three million online scam complaints over the last five years.
Dr. Jan McGee was the principal at Burns Science and Technology Charter in Oak Hill, Fla., a prestigious school that boasts well above-average math and reading test scores, when she fell for a scam despite warnings from her staff, according to a report from an NBC affiliate in Florida.
"I am a very smart lady," McGee said. "Well-educated. I fell for a scam."
McGee says that she had been talking to someone pretending to be Musk for at least four months before she sent him a check for $100,000 out of the school's account. McGee had been trying to get the Tesla
TSLA,
+6.24%
and SpaceX founder involved with the school, as it's located near Florida's Space Coast, which is known for its proximity to the Kennedy Space Center and Cape Canaveral.
McGee didn't say just how she was communicating with the Musk impersonator, such as whether it was through phone calls, text, email or social media. One of the school board members later said the scammer had promised to give $6 million to the school in the future. The school's business manager was able to stop the check before it cleared, the report indicates.
"I put myself into this position and into this mess and I made a bad decision," McGee said. She has since resigned. And her husband, who was a teacher at the school, has also stepped down.
But what happened to McGee has become all too common. Online scams led to $10.2 billion in losses for Americans in 2022, a major jump from $6.9 billion in 2021, according to the FBI's Internet Crime Report. Both the number of complaints and financial losses about Internet scams have more than doubled over the past five years.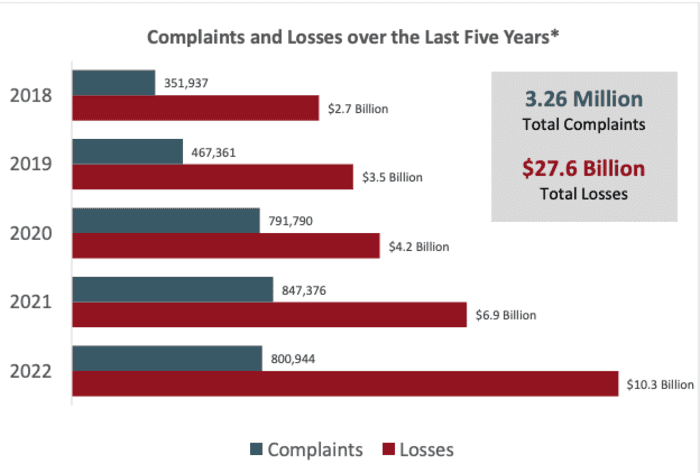 So what can people do to make sure they don't fall prey to one of these scams?
"A lot of these scams are putting a new coat of paint on an old scam," Travis Taylor, cybersecurity expert and co-host of the "What the Hack with Adam Levin" podcast, told MarketWatch about the rise in online scams.
"Somebody either calling for help, telling somebody there's an urgent problem, or winning somebody's confidence," Taylor says. "One way or another, the end result is the same. Usually, get money or sensitive data from the target."
Taylor says you can protect yourself by simply not giving sensitive information away over the phone, online or via email.
"Never give away any information that you're being asked for," Taylor said. "The IRS will never call you, no one ever needs to call you to find out what your Social Security number is. No one should have to call you to ask for your credit card number. Just don't give any data or information away, especially if it's unsolicited."
"'The IRS will never call you, no one ever needs to call you to find out what your Social Security number is. No one should have to call you to ask for your credit card number.'"
Additionally, one way a person can verify that they are being contacted by the individual or organization that they say they are, is to contact them directly through a publicly available phone number or email rather than responding to their call, text or email.
"If you want to avoid remorse, go to the source," Taylor says. "If you get an email claiming to be from your bank, instead of clicking on that email, or calling the phone number on that email message, call the bank directly because it's really easy to fake a communication from a bank."
Many of the same principles apply to online scams that originate on social media.
"Scammers have gotten pretty sophisticated," Dr. Erika Rasure, a financial therapist at Beyond Finance, told MarketWatch. "When you're looking at TikTok or Instagram and people are sliding into your DMs claiming to be a celebrity who's stranded or needs money, that should be a first clear warning sign, that that's probably not right. Somebody who is worth millions of dollars and is a major public figure, they're probably not just going to reach out to the average Joe or Jane."
Rasure said the type of online scam that principal McGee fell victim to was called "grooming," a long-term process where the scammer emotionally manipulates a person for gain.
Taylor described the Musk impersonator situation in similar terms, but gave it a different name: pig-butchering.
"That is a classic example of a pig-butchering scam. The victim is the pig being fattened up for the slaughter."
See also: Show me the money! Americans care less about patriotism and religion and more about money, poll shows.
The United Stated Federal Trade Commission has listed four signs that you may be involved in a scam:
Scammers PRETEND to be from an organization you know.
Scammers say there's a PROBLEM or a PRIZE.
Scammers PRESSURE you to act immediately.
Scammers tell you to PAY in a specific way.
If you or somebody you know was involved in a scam, alert the FTC at ReportFraud.ftc.gov.
Read on: Want to avoid crypto scams? The FTC says do these three things
(Visited 1 times, 1 visits today)