PHOENIX — Vestar, the Phoenix-based real estate developer, had a landmark year in 2022, expanding its retail and entertainment footprint throughout the western United States.
Key milestones …
Already have an account? Log in to continue.
Current print subscribers can create a free account by clicking here.
Otherwise, click here to subscribe.


To Our Valued Readers –
Visitors to our website will be limited to five stories per month unless they opt to subscribe. The five stories do not include our exclusive content written by our journalists.
For $5.99, less than 20 cents a day, digital subscribers will receive unlimited access to YourValley.net, including exclusive content from our newsroom and access to our Daily Independent e-edition.
Our commitment to balanced, fair reporting and local coverage provides insight and perspective not found anywhere else.
Your financial commitment will help to preserve the kind of honest journalism produced by our reporters and editors. We trust you agree that independent journalism is an essential component of our democracy. Please click here to subscribe.
Sincerely,
Charlene Bisson, Publisher, Independent Newsmedia


Click here to see your options for becoming a subscriber.
Click here create a free account for posting comments. Note that free accounts do not include access to premium content on this site.
Vestar, the Phoenix-based real estate developer, had a landmark year in 2022, expanding its retail and entertainment footprint throughout the western United States.
Key milestones reached in 2022 include leasing more than 1.1 million square feet of retail space with 460 new and renewed leases. Vestar also has more than 1.5 million square feet of commercial retail space currently under development, setting the stage for continued expansion in the years to come, according to a press release.
The company welcomed a variety of notable retailers to its properties in 2022, including Whole Foods, Hobby Lobby, TJ Maxx, Costco, Sprouts and two Nordstrom Rack stores to its growing portfolio of open-air shopping centers.
In addition, Vestar continued to grow its presence throughout the Southwest, securing five new third-party management assignments for 1.6 million square feet of space and entering the New Mexico marketplace for the first time with a project in Santa Fe.
"We're very proud of what our team accomplished in 2022," Vestar Executive Vice President Jeff Axtell said in the release. "Our robust leasing and development activity reflects the fact that the open-air retail sector continues its post-pandemic rebound, particularly in areas seeing heavy population growth."
The company also expanded green initiatives at Vestar-operated projects last year. Through its proprietary sustainability program GreenSTAR, Vestar reduced overall energy usage by 14% portfolio-wide and added energy-saving LED light fixtures to 90% of its properties.

Another 94% of Vestar properties now actively participate in recycling and composting programs and the majority of them will feature electric vehicle charging stations by the end of 2023.
Vestar found innovative ways to attract new customers in 2022, the release stated, hosting almost 2,150 events that drew nearly 2 million attendees.
Several outdoor retail destinations in Arizona and Colorado, including Desert Ridge Marketplace and Tempe Marketplace, also implemented "Sip & Stroll" programs last year, allowing guests to have cocktails in common areas between visiting stores and restaurants.
Looking ahead, the company has five new ground-up developments in the works across the Phoenix metro that span more than 1.5 million square feet. New shopping and entertainment destinations in Queen Creek, Peoria, Buckeye and Phoenix are set to open between the summer of 2023 and early 2025.
"Vestar had a strong 2022, and leasing continues to gain momentum portfolio-wide," Axtell said in the release. "We had 96% of our portfolio leased in 2022 and expect that trend to continue."
For more about Vestar and the company's growing portfolio of retail and entertainment destinations, visit Vestar.com.
We'd like to invite our readers to submit their civil comments, pro or con, on this issue. Email AZOpinions@iniusa.org.
Other items that may interest you
Most popular stories in Phoenix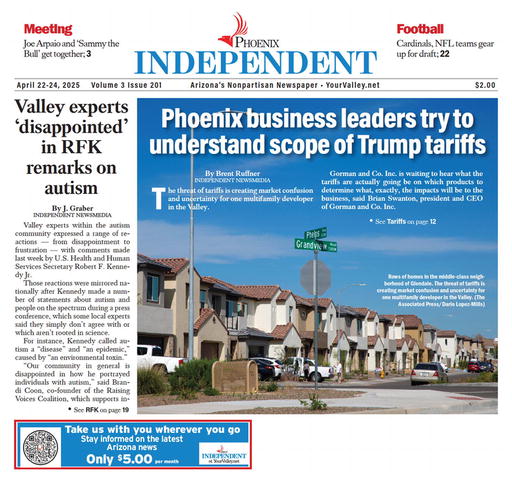 Read the latest print edition here.
View this issue
Browse other issues
Simply submit your e-mail address below, click on the opt-in email link and watch your inbox for news from the Daily Independent at YourValley.net. Thank you for reading!
A suspect has been arrested in the death of a woman who was killed a week ago while hiking along a trail in northeastern Phoenix, police said Thursday night. The man was being questioned May 4 …
Cinco celebrations abound in Phoenix
Nationals take 3-game win streak into matchup with the Diamondbacks
New life for Metrocenter takes shape
Former NBA player and executive Lance Blanks, 56, dies
Phyllis Melvey


YourValley.net
623-972-6101
17220 N Boswell Blvd
Suite 230E
Sun City AZ 85373
Email: azdelivery@iniusa.org
(Visited 1 times, 1 visits today)