SVN Desert Commercial Advisors announces the sale of two multifamily properties in Phoenix. Carrick Sears and Royden Hudnall utilized co-operative marketing and market knowledge to secure the sale of …
Already have an account? Log in to continue.
Current print subscribers can create a free account by clicking here.
Otherwise, click here to subscribe.


To Our Valued Readers –
Visitors to our website will be limited to five stories per month unless they opt to subscribe. The five stories do not include our exclusive content written by our journalists.
For $5.99, less than 20 cents a day, digital subscribers will receive unlimited access to YourValley.net, including exclusive content from our newsroom and access to our Daily Independent e-edition.
Our commitment to balanced, fair reporting and local coverage provides insight and perspective not found anywhere else.
Your financial commitment will help to preserve the kind of honest journalism produced by our reporters and editors. We trust you agree that independent journalism is an essential component of our democracy. Please click here to subscribe.
Sincerely,
Charlene Bisson, Publisher, Independent Newsmedia


Click here to see your options for becoming a subscriber.
Click here create a free account for posting comments. Note that free accounts do not include access to premium content on this site.
SVN Desert Commercial Advisors announces the sale of two multifamily properties in Phoenix. Carrick Sears and Royden Hudnall utilized co-operative marketing and market knowledge to secure the sale of both unique properties in under 90 days.

Palm Lane Apartments was sold for 6.5% over list price, a remodeled property in turn-key condition. The buyer was unconventional and not in any broker's database. Purchased by The Arizona Opera who will use the property to house musicians.
"I was happy to see this property go to an unconventional buyer. This non-profit organization will greatly benefit by being able to house musicians as needed and this property is so close to the opera facility, it really made a lot of sense for them," says Sears.
The Fillmore Street property was constructed in 1948, entailing one bedroom Casita style units. The property was sold as a fully occupied – master lease. The buyer plans to keep the master lease program in place. The seller owned the property for over 20 years, with hopes to retire in the next year. The SVN Multifamily Team is working to ensure he receives the highest price for his portfolio.
Sears worked with the seller on the acquisition of the Palm Lane property three years prior.
The return client quotes, "Carrick was instrumental in helping me purchase this property 3 years ago and offered very helpful advice throughout my holding period, and then was able to sell it for above my pricing expectation this year – overall delighted with the SVN Team."
Other items that may interest you
Most popular stories in Daily Independent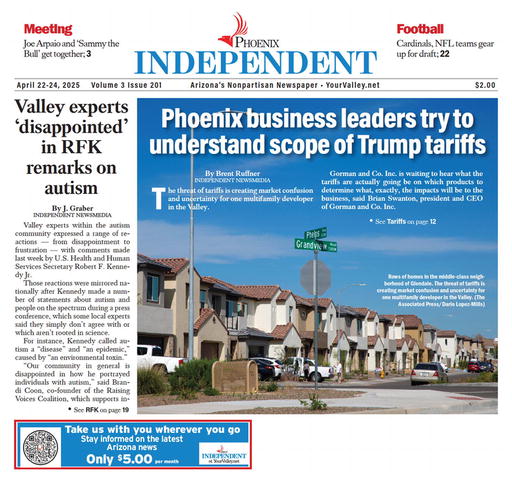 Read the latest print edition here.
View this issue
Browse other issues
Simply submit your e-mail address below, click on the opt-in email link and watch your inbox for news from the Daily Independent at YourValley.net. Thank you for reading!
Jordan Eberle had a goal and an assist as the Seattle Kraken rallied from two goals down to beat the Vancouver Canucks 5-2. Yanni Gourde, Brandon Tanev, Jayden Schwartz and Matty Beniers also scored …
Kemp's RBI single in 9th gives A's 4-3 win over Guardians
Seattle's Hernandez, Pollock homer twice in win over Angels
Curry, Poole combine for 64 as Warriors beat Thunder 136-125
Suns clinch playoff spot, rout injury-riddled Spurs 115-94
Mexican judge orders five held on homicide in migrant fire


YourValley.net
623-972-6101
17220 N Boswell Blvd
Suite 230E
Sun City AZ 85373
Email: azdelivery@iniusa.org
(Visited 1 times, 1 visits today)