With more than $59 million in sales volume for 2021, Alex Smith and the SMITH team are bringing their passion and aptitude for luxury real estate development, buying and selling to RETSY, as the …
Already have an account? Log in to continue.
Current print subscribers can create a free account by clicking here.
Otherwise, click here to subscribe.


To Our Valued Readers –
Visitors to our website will be limited to five stories per month unless they opt to subscribe. The five stories do not include our exclusive content written by our journalists.
For $5.99, less than 20 cents a day, digital subscribers will receive unlimited access to YourValley.net, including exclusive content from our newsroom and access to our Daily Independent e-edition.
Our commitment to balanced, fair reporting and local coverage provides insight and perspective not found anywhere else.
Your financial commitment will help to preserve the kind of honest journalism produced by our reporters and editors. We trust you agree that independent journalism is an essential component of our democracy. Please click here to subscribe.
Sincerely,
Charlene Bisson, Publisher, Independent Newsmedia


Click here to see your options for becoming a subscriber.
Click here create a free account for posting comments. Note that free accounts do not include access to premium content on this site.
With more than $59 million in sales volume for 2021, Alex Smith and the SMITH team are bringing their passion and aptitude for luxury real estate development, buying and selling to RETSY, as the latest top-producing team to join the tech-focused brokerage.
Alex Smith is known in the Arizona real estate community for his distinctive level of professionalism and commitment. With a substantial background as a leader in the construction industry, it was a natural fit for Smith to found his own real estate team and development group, according to a press release.
He established SMITH Real Estate, a luxury residential real estate business with RETSY, and Sasquatch Development Group, a real estate development group that specializes in single-family attached housing.
"SMITH Real Estate is a well-established team that has built an impressive online presence by utilizing social media to engage with their sphere," Chris Morrison, founding partner of RETSY, said in the release. "We are thrilled to welcome Smith Real Estate to RETSY."

RETSY is comprised of agents boasting more than 300 years of combined experience and $3.5 billion in sales. Since launching in 2020, the firm has succeeded by combining an innovative platform with top agents who are recognized leaders and regarded for delivering a high level of personalized service to home buyers and sellers. In 2021, the brokerage was selected by Forbes Global Properties to join its exclusive network, exposing millions of viewers worldwide to the top Arizona luxury properties that RETSY agents represent.
RETSY is currently the fastest-growing brokerage in Arizona because it incorporates a tech-leading approach to the traditional real estate model. RETSY provides each of its top producing agents with the innovative tools needed to continue breaking sales records in one of the most competitive markets in the country.
"RETSY held the keys to the missing parts within our team, backed by knowledgeable personnel that are available to help you navigate toward your business' goals," Smith said in the release. "Chris has clearly implemented a high-tech strategy that allows agents to have confidence they are supported by leading systems, in addition to functioning like a normal brokerage that provides community support from like-minded individuals."
Offering local expertise with an international reach, RETSY was created to combine the latest technologies with premier agents to deliver service to luxury home buyers and sellers through a pervasive portfolio of exclusive listings in Arizona.
Other items that may interest you
Most popular stories in Paradise Valley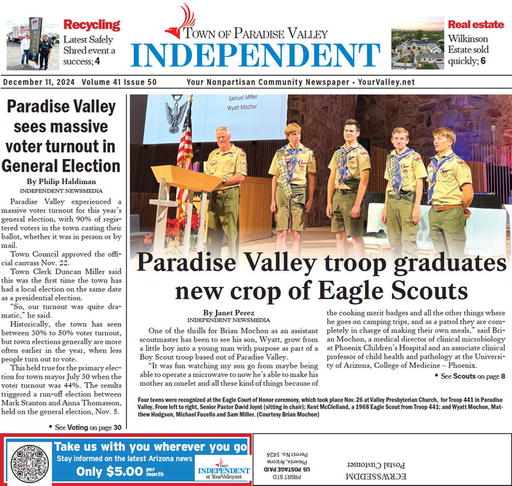 Read the latest print edition here.
View this issue
Browse other issues
Simply submit your e-mail address below, click on the opt-in email link and watch your inbox for news from the Daily Independent at YourValley.net. Thank you for reading!
Raise your hand if you moved to Paradise Valley for "rural elegance." Anyone? Now raise your hand is you know what "rural elegance" is. Best I can guess it is some made up …
DIY Ideas to Upgrade Your Home for Spring
Desert Hills Community School of Music to hold concert
Are you guilty of 'wishcycling'?
Town of Paradise Valley approves luxury home community
Valley golf courses implement different solutions to Colorado River water crisis


YourValley.net
623-972-6101
17220 N Boswell Blvd
Suite 230E
Sun City AZ 85373
Email: azdelivery@iniusa.org
(Visited 1 times, 1 visits today)