Jay Macklin, owner of Platinum Living Realty, an independent luxury real estate brokerage, was selected as the Residential Real Estate Designated Broker of the Year by Arizona School of Real Estate …
Already have an account? Log in to continue.
Current print subscribers can create a free account by clicking here.
Otherwise, click here to subscribe.


To Our Valued Readers –
Visitors to our website will be limited to five stories per month unless they opt to subscribe. The five stories do not include our exclusive content written by our journalists.
For $5.99, less than 20 cents a day, digital subscribers will receive unlimited access to YourValley.net, including exclusive content from our newsroom and access to our Daily Independent e-edition.
Our commitment to balanced, fair reporting and local coverage provides insight and perspective not found anywhere else.
Your financial commitment will help to preserve the kind of honest journalism produced by our reporters and editors. We trust you agree that independent journalism is an essential component of our democracy. Please click here to subscribe.
Sincerely,
Charlene Bisson, Publisher, Independent Newsmedia


Click here to see your options for becoming a subscriber.
Click here create a free account for posting comments. Note that free accounts do not include access to premium content on this site.
Jay Macklin, owner of Platinum Living Realty, an independent luxury real estate brokerage, was selected as the Residential Real Estate Designated Broker of the Year by Arizona School of Real Estate and Business.
The organization honored Macklin for contributions to both the real estate field and the community in a ceremony April 14, according to a press release.
"It's an honor to be recognized by such a respected organization such as the Arizona School of Real Estate and Business," Macklin said in the release. "We are incredibly proud of our rapid growth over the last year as an independent brokerage and look forward to the addition of new agents, teams, offices and locations."
Macklin co-founded Platinum Living Realty along with his wife Michelle in 2010. Since then, the Scottsdale-based luxury real estate brokerage has grown into four offices and 128 agents.

Macklin has more than 25 years in the marketing and business development sector and has a passion for agent growth and development, focusing most of his days helping agents build, maintain and grow sustainable real estate businesses, the release stated.
In the last year, Macklin's success and systems has led to the recruitment of more than 50 agents and has expanded into other markets.
For more information and a list of available agents, visit www.platinumlivingrealty.com.
The ASREB's Journal Industry Awards recognizes Arizona's most esteemed professionals in the real estate industry, according to the release. It was founded in 1969 and is currently one of the largest and oldest schools of its kind in the nation. This year's award ceremony marked the organization's eighth annual Journal Industry Awards.
Other items that may interest you
Most popular stories in Scottsdale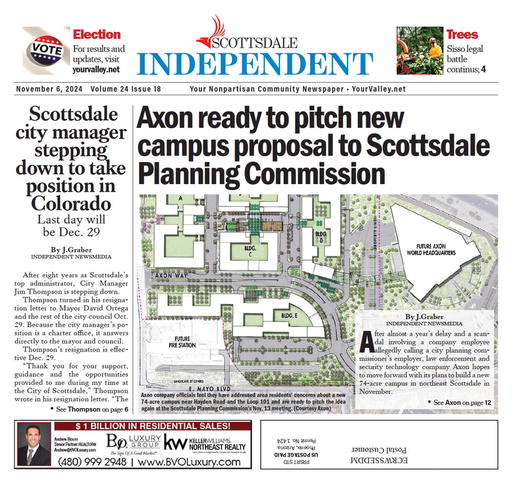 Read the latest print edition here.
View this issue
Browse other issues
Simply submit your e-mail address below, click on the opt-in email link and watch your inbox for news from the Daily Independent at YourValley.net. Thank you for reading!
(Family Features) May is National Pet Month, making it a "purr-fect" time for families to spoil their furry family members. From pet food to apparel and toys, celebrate with these fun ideas.
Water restrictions discussed at Scottsdale City Council
Arcadia High, Tavan Elementary schools placed in lockdown Monday
Local family business Camelot Homes rebrands to Cameron Custom Homes & Renovations
Community efforts seek to prevent senior social isolation
Experience Scottsdale: Travel moves forward this National Travel & Tourism Week


YourValley.net
623-972-6101
17220 N Boswell Blvd
Suite 230E
Sun City AZ 85373
Email: azdelivery@iniusa.org
(Visited 1 times, 1 visits today)