As the Jan. 8 deadline approaches for short-term/vacation rental properties to be licensed by the city of Scottsdale, the city is addressing a key misconception: every property offered for rent less than 30 days must apply for and receive a Scottsdale license — no properties are "grandfathered" in.
Already have an account? Log in to continue.
Current print subscribers can create a free account by clicking here.
Otherwise, click here to subscribe.


To Our Valued Readers –
Visitors to our website will be limited to five stories per month unless they opt to subscribe. The five stories do not include our exclusive content written by our journalists.
For $5.99, less than 20 cents a day, digital subscribers will receive unlimited access to YourValley.net, including exclusive content from our newsroom and access to our Daily Independent e-edition.
Our commitment to balanced, fair reporting and local coverage provides insight and perspective not found anywhere else.
Your financial commitment will help to preserve the kind of honest journalism produced by our reporters and editors. We trust you agree that independent journalism is an essential component of our democracy. Please click here to subscribe.
Sincerely,
Charlene Bisson, Publisher, Independent Newsmedia


Click here to see your options for becoming a subscriber.
Click here create a free account for posting comments. Note that free accounts do not include access to premium content on this site.
LICENSES REQUIRED
Business
As the Jan. 8 deadline approaches for short-term/vacation rental properties to be licensed by the city of Scottsdale, the city is addressing a key misconception: every property offered for rent less than 30 days must apply for and receive a Scottsdale license — no properties are "grandfathered" in.
The city has notified all known short-term/vacation rental properties about the licensing requirement via direct mail, and is also working with the rental marketplaces to notify properties listed in Scottsdale., a press release stated. However, as of Dec. 27, only 838 of an estimated 5,000 properties in Scottsdale have applied for or received their Scottsdale license.
Failure to receive the city's letter does not alleviate an owner's responsibility to obtain a license or comply with other ordinances and legal requirements.
Beginning Jan. 9, any short-term/vacation rental property operating in Scottsdale without a license will be violating the law. The owner/operator will be subject to enforcement action by the city that includes being cited with a minimum fine of $1,000 per violation.
Download a step-by-step licensing process guide for a Scottsdale rental property license here.
A short-term/vacation rental covers rentals of less than 30 days, the release stated. Owners that rent for 30 days or longer do not need to obtain a license through this process.
Visit ScottsdaleAZ.gov and search "short-term rental" to learn about the city, county and state requirements for short-term/vacation rental properties, apply for a license, and find resources for neighborhoods.

Other items that may interest you
Most popular stories in Daily Independent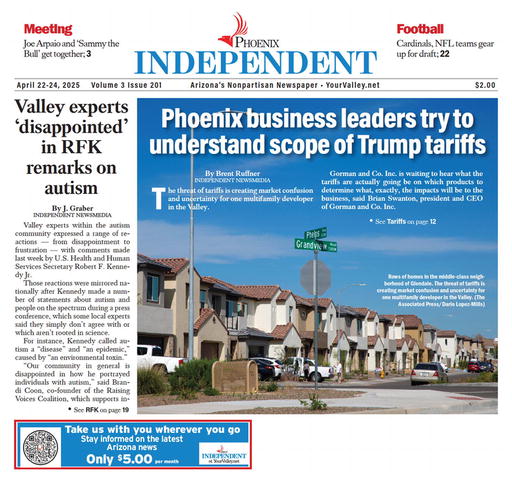 Read the latest print edition here.
View this issue
Browse other issues
Simply submit your e-mail address below, click on the opt-in email link and watch your inbox for news from the Daily Independent at YourValley.net. Thank you for reading!
PHOENIX – Lawmakers representing Mesa and Tempe argued Monday against a bill  that would forbid teachers from honoring requests by students to be addressed by a pronoun different from …
Foreign veterinarians visit ailing elephant in Pakistani zoo
Chiefs' Travis Kelce to host music festival in Kansas City
El Pollo Loco Unveils New Loco Rewards® Program & Updated App Experience, Making Pollo …
Ex-Kosovo president tells international judges he's innocent
NHL's Pride nights collide with LGBTQ+ political climate


YourValley.net
623-972-6101
17220 N Boswell Blvd
Suite 230E
Sun City AZ 85373
Email: azdelivery@iniusa.org
(Visited 1 times, 1 visits today)