Scottsdale Area Association of Realtors' Forty Under 40 winner Somone Wilder, one of Maricopa County's highest-producing realtors, has explained how "the Grinch stole the Phoenix …
Already have an account? Log in to continue.
Current print subscribers can create a free account by clicking here.
Otherwise, click here to subscribe.


To Our Valued Readers –
Visitors to our website will be limited to five stories per month unless they opt to subscribe. The five stories do not include our exclusive content written by our journalists.
For $5.99, less than 20 cents a day, digital subscribers will receive unlimited access to YourValley.net, including exclusive content from our newsroom and access to our Daily Independent e-edition.
Our commitment to balanced, fair reporting and local coverage provides insight and perspective not found anywhere else.
Your financial commitment will help to preserve the kind of honest journalism produced by our reporters and editors. We trust you agree that independent journalism is an essential component of our democracy. Please click here to subscribe.
Sincerely,
Charlene Bisson, Publisher, Independent Newsmedia


Click here to see your options for becoming a subscriber.
Click here create a free account for posting comments. Note that free accounts do not include access to premium content on this site.
Scottsdale Area Association of Realtors' Forty Under 40 winner Somone Wilder, one of Maricopa County's highest-producing realtors, has explained how "the Grinch stole the Phoenix housing market" and what that means for both potential buyers and sellers.
"Some people come alive with joy and others absolutely loathe this time of year," Wilder said. "This holiday season, the dynamics between buyers and sellers are equally contrasting when it comes navigating the Phoenix housing market."
She noted the 180-degree shift the market experienced earlier this year as a result of the federal level fiddling with interest rates in an effort to control inflation, a press release stated.
"Because of this, inventory has risen, prices stopped climbing month over month and the November 2022 median sales price was lower than November 2021 price — this is a significant first as it relates to year over year data that we've seen all year," Wilder said. "It's no wonder many sellers are feeling more like the Grinch this holiday season."
But Wilder suggested looking at this information in another way to help those Grinch hearts grow a few sizes this season.
"According to data compiled by The Cromford Report on our local MLS, since 2013 the average sales price was increasing at a rate of about 6.6% annually until 2020," she said. "From 2020 until now, that average rate jumped to almost 18%. So, although the median sales price has dipped as compared to last year, sellers are likely still ahead if you've owned even for just a couple of years."
When it comes to sellers, whether they are just considering selling or already have their homes on the market, Wilder is adamant about the importance of responding to the market's feedback on the home — the number of showings and how much the offers are, not what a potential buyer thinks of the drapes.
"The market will respond to your property and if you don't adjust accordingly, your home will continue losing value every day it sits on market," Wilder said. "Good agents know to consider days on market when advising on an offer, and a full-price offer will rarely come your way if your house has been on market for any real length of time. Bottom line, homes are absolutely selling right now, but they must be presented well and priced to the current market — tis not the season to be a greedy Grinch."
While the tables have turned for sellers, buyers in the current market are also faced with their own set of challenges.

"A buyer simply cannot or will not buy a property if they cannot afford it and since interest rates can swing a month payment up into the stratosphere, many have been struggling to wrap their heads around the payment amounts required to buy a very basic home in a modest corner of Whoville," Wilder explained.
In her experience, Wilder has observed that those buying now are the ones looking to capitalize on a long-term play. That's what many of her buyers are doing and she said it's a smart move.
"The fact is interest rates can be changed but the price paid for a home cannot," Wilder stated. "Many of my buyers are negotiating hard for lower sales prices or massive amounts of seller concessions that they can use to buy a lower rate, either permanently or as a temporary step down, which buys time for a refinance or to make significant property repairs that would have otherwise cost them out of pocket."
The hot rush a few months back has cooled, so buyers in the current market are also not contending with droves of competition. This allows them time to look at the numbers, gather their family members' opinions and make measured offers without the passion of competition driving them.
"As for December, many people view a New Year as time for a fresh start, sellers included," Wilder said. "You can often use a seller's desire to close a chapter as additional leverage if you can pay them by Dec. 31. If this isn't a reason for the Whos in Whoville to rejoice, I don't know what is."
While buyers are biding their time, supply is still on the low side in the Phoenix market. According to loan application data, there are plenty of qualified buyers that are holding off until interest rates settle, and once they do, those buyers will be ready to jump back into the game, restoring demand.
"It won't be long for the pace to pick up and the potential for that competition to likely return," Wilder said. "In fact, there are already indications that inflation is beginning to subside and this last week interest rates came down a touch.
"My best advice to Whos who want to own in Whoville: Make your offers now. Negotiate with these Grinches while you can. Create a deal that bridges a lower price and more affordability using the leverage of the holiday season. After all, as the Grinch himself said, 'Be it ever so heinous, there's no place like home.'"
For more about Wilder, visit moniewilder.com.
Other items that may interest you
Most popular stories in Scottsdale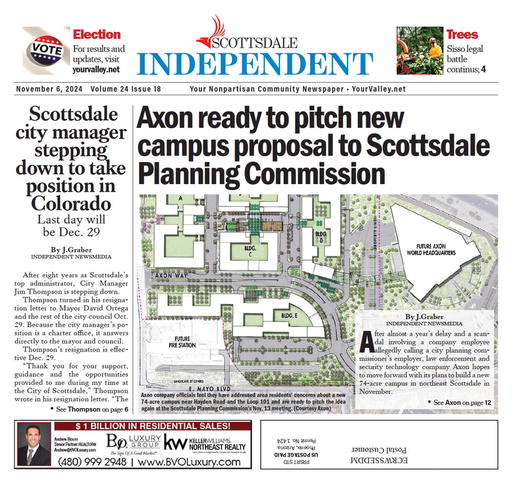 Read the latest print edition here.
View this issue
Browse other issues
Simply submit your e-mail address below, click on the opt-in email link and watch your inbox for news from the Daily Independent at YourValley.net. Thank you for reading!
The Board of Visitors hosted nearly 800 guests at its 108th annual Charity Ball on April 1. The highlight of the evening was the presentation of 41 Flower Girls under the night sky at the JW …
10 of the world's longest flights—and what to do if you're on one
Cold Beers & Cheeseburgers presents check to Arizona Law Enforcement Canine Association
Scottsdale's proposed fiscal year 2023-24 budget available for review
Founding, franchising, or buying: What's the right option for your new business?
Sugo Bistro celebrates grand opening April 29


YourValley.net
623-972-6101
17220 N Boswell Blvd
Suite 230E
Sun City AZ 85373
Email: azdelivery@iniusa.org
(Visited 1 times, 1 visits today)