As inflation continues and an economic downturn looms, Americans are worried about their financial security. Scottsdale resident Candy Valentino knows something about financial hardship, having grown …
Already have an account? Log in to continue.
Current print subscribers can create a free account by clicking here.
Otherwise, click here to subscribe.


To Our Valued Readers –
Visitors to our website will be limited to five stories per month unless they opt to subscribe. The five stories do not include our exclusive content written by our journalists.
For $5.99, less than 20 cents a day, digital subscribers will receive unlimited access to YourValley.net, including exclusive content from our newsroom and access to our Daily Independent e-edition.
Our commitment to balanced, fair reporting and local coverage provides insight and perspective not found anywhere else.
Your financial commitment will help to preserve the kind of honest journalism produced by our reporters and editors. We trust you agree that independent journalism is an essential component of our democracy. Please click here to subscribe.
Sincerely,
Charlene Bisson, Publisher, Independent Newsmedia


Click here to see your options for becoming a subscriber.
Click here create a free account for posting comments. Note that free accounts do not include access to premium content on this site.
As inflation continues and an economic downturn looms, Americans are worried about their financial security. Scottsdale resident Candy Valentino knows something about financial hardship, having grown up in a trailer and found financial freedom with no college or professional background.
Valentino's book "Wealth Habits: Six Ordinary Steps to Achieve Extraordinary Financial Freedom" just hit the Wall Street Journal bestseller list.
Some of the not-so-obvious secrets she reveals:

"You don't need to know everything, or be the best at anything, to be wealthy," Valentino said in a press release. "You just have to do a few ordinary things, and over time you will achieve extraordinary results."
"Wealth Habits" reminds us that regardless of what family you came from, what level of education you have or what your current financial life looks like, you can make your way to financial freedom, regardless of your circumstances, the release stated.
Born to teenaged parents, Valentino grew up in a trailer in rural Pennsylvania. At 19 years old, with no degree, no corporate background and no money, she started her first multimillion-dollar brick and mortar business. Since then she founded, scaled and successfully sold businesses in service, retail and e-commerce, as well as created a vast real estate investment portfolio.
Her parents couldn't afford childcare, so she went to her father's small auto repair shop after school. Seeing her dad struggle firsthand in a small business motivated her to seek opportunity. At age 18, she traveled to New York City, visiting a cutting-edge wellness spa. She recognized there were none of these in Pennsylvania, or much of the east coast at that time, so she saw a need.
Applying for a small business loan, she was able to start a wellness spa before they were popular. She grew and scaled the company, got into product manufacturing and started other businesses. With the profits, she started investing in real estate while also founding a charity nonprofit for animals, HEAL Animal Rescue.
Valentino has developed programs to help underprivileged, fostered or abused children through providing hope, healing and empowerment to end the abuse cycle. She knows that success, financial or otherwise, is only possible when there is hope, the press release stated.
During her two-and-a-half decades as an entrepreneur, Valentino has been named to Top Business Leaders 40 Under 40, Top 50 Women In Business, 10 People Making a Difference, Top 10 Business Consultants by Yahoo Finance, and was the youngest female to receive the Governor's Award in Entrepreneurship in Pennsylvania. In addition, Success Magazine named her "Women of Influence" and "Leaders Who Get Results" alongside Tony Robbins and Brené Brown. She was named "Person of Distinction" in Arizona.
She's been featured in numerous TV, radio, magazine and newspaper articles including Forbes, Success Magazine, Yahoo Finance, Business Insider and BBC World Report — not only for business and investing, but for advocacy and philanthropic work. After exiting her last company, Valentino started sharing her business and investing strategies as CEO of Founders Organization.
With almost 25 years of experience creating successful businesses in multiple industries, Valentino is a mentor, speaker and trainer on the topics of wealth creation, business development and real estate investing. "Wealth Habits is her first book."
Other items that may interest you
Most popular stories in Scottsdale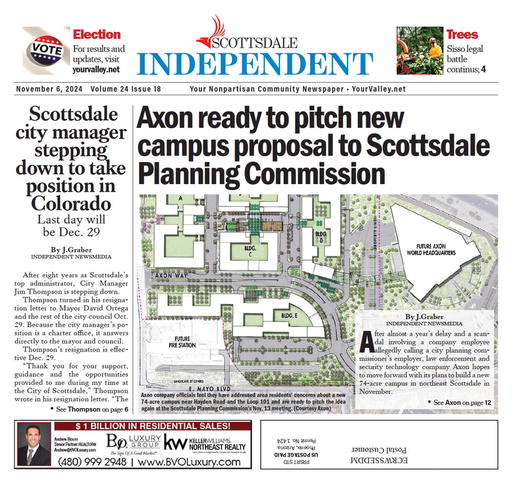 Read the latest print edition here.
View this issue
Browse other issues
Simply submit your e-mail address below, click on the opt-in email link and watch your inbox for news from the Daily Independent at YourValley.net. Thank you for reading!
Kim Higgins was looking for a way to keep the skills she learned from American sign language classes sharp outside of the classroom. So, the Salt River Project retiree decided in 2020 to volunteer …
Scottsdale gas prices near $5 for a gallon of regular
The Board of Visitors wraps up 108th Charity Ball
Cold Beers & Cheeseburgers presents check to Arizona Law Enforcement Canine Association
Scottsdale's proposed fiscal year 2023-24 budget available for review
Sugo Bistro celebrates grand opening April 29


YourValley.net
623-972-6101
17220 N Boswell Blvd
Suite 230E
Sun City AZ 85373
Email: azdelivery@iniusa.org
(Visited 1 times, 1 visits today)