DEVELOPMENT
HOUSING
Subscriber Exclusive
HELP ON THE WAY
HOUSING
One nonprofit has come up with a new way to combat homelessness and the high cost of housing in the Valley.
In what is believed to be the first of its kind locally, Family Promise of Greater Phoenix, which for 22 years has served a primary purpose of addressing housing insecurity, will construct a microdevelopment that features six residential units made out of brand-new 8'x40x10' modified shipping containers structurally engineered for use as housing.
The community, called Container Village, will be located on the grounds of First Christian Church, at 6242 N. 59th Ave., in Glendale. The housing will occupy 18,000 square feet of undeveloped land behind the church building.
"It will be the first of its kind in the Valley, in that it's a very safe community built for what we call 'extremely low-income families'," said Ted Taylor, CEO of Family Promise of Greater Phoenix.
This small scale, rent-based housing facility will include on-site property management and supportive services for income-qualified residents.
Each unit will include two shipping containers joined together to feature a 640-square foot, two-bedroom, fully furnished apartment running on solar power to minimize energy costs. The price tag for each unit is about $100,000, Taylor said.
The project has already been certified by the State of Arizona. Waiting now on a final design review sign-off from the city of Glendale, construction on Container Village should start in the next 30 to 45 days, with tenants expected to move in by June.
"We know this area has suffered due to homelessness, and we want to clean that up," Taylor said. "This is commercial-grade construction, this is not manufactured home construction."
Arizona economics expert Elliott Pollack, from the Elliott D. Pollack & Company, reports that the average monthly house payment in the Greater Phoenix area increased 81.5% from 2020 to 2022. While his economic and real estate modeling shows that housing affordability should improve in 2023, "It is still unlikely to get back to pre-Covid affordability levels."

Up for Growth, an advocacy group measuring housing equity, notes a 30% increase in median rent from 2012 through 2019 in the Phoenix Metro.
And in terms of available inventory, the Arizona Department of Housing estimates that 270,000 more housing units are needed to meet demand.
Those realities leave many struggling families with almost no housing options.
Family Promise, which works with more than 7,000 congregations from diverse faiths in 42 states, is providing that assistance, including with the Glendale microcommunity model.
By developing on less than one-third of an acre, on a church property, small housing projects can develop "by-right," which is defined by the National Multifamily Housing Council as "development (that) primarily impacts affordability by allowing the supply of housing to meet demand."

"The idea that we could create a micromodel of housing development by-right could deploy across congregational locations in this Valley is a game-changer," Taylor said. "It's disruptive to the whole development model because big developers won't touch those small pieces of land."
And since the proposed use is consistent with the existing zoning, the development is not subject to a conditional use permit or city action.
About the only enforcement the city can — and did — apply relates to the structures' exterior.

The city is requiring the development to include material such as gabion or fiber cement siding to bring texture to each structure's outside walls with the intent of making the units look less like containers in order to comply with the city's Residential Design and Development Manual. The city is also requiring a designed entrance into the community to enhance its curb appeal.
Taylor says those extra features likely won't appear on future developments modeled after the Glendale pilot community around the Valley.
"The other communities we're talking to are telling us that's not going to be a requirement," he said.
The BHHS Legacy Foundation, which has invested more than $110 million to nonprofit projects to date, was the primary funder who "made this new housing development possible," Taylor says.
The Arizona Housing Fund, a money source for nonprofits that build and operate permanent, low-income housing units, this month awarded $850,000 in grants to support multifamily housing.
The grants included $100,000 designated for Glendale's Container Village.
"The issue of homelessness impacts Arizona's most vulnerable communities including families, the elderly and veterans — this must be addressed with the construction of permanent and affordable housing across the state," Michelle Lind, counsel for the Arizona Realtors, which donated $2,500 toward the grants, shared in a statement.
With the State of Arizona granting final certification on the three Glendale home models, Family Promise can reproduce them in perpetuity anywhere in the state with no additional approval required.

Steve Stockmar
News Editor | Glendale
@stevestockmar
sstockmar@iniusa.org
Steve Stockmar has been with the Independent Newsmedia team since 2017. An NAU alum and Peoria resident, Steve's community journalism pursuits focus mostly on arts & culture, education, and profiles of neighbors making a difference. In his spare time Steve plays in a vintage baseball league using uniforms and rules from the 1860s, and also acts (badly) in community theater. In addition, he has an unhealthy obsession with baseball and the Chicago Cubs.
Other items that may interest you
Most popular stories in Daily Independent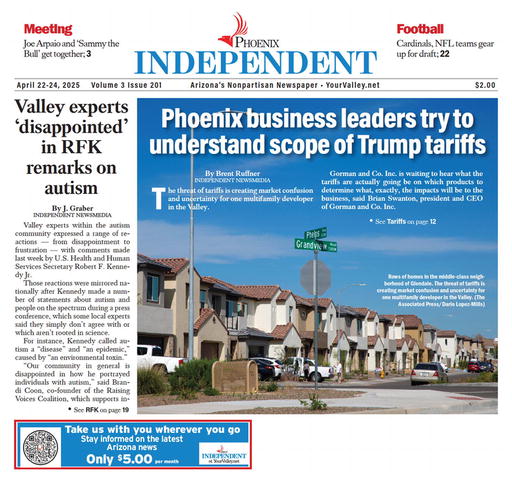 Read the latest print edition here.
View this issue
Browse other issues
Simply submit your e-mail address below, click on the opt-in email link and watch your inbox for news from the Daily Independent at YourValley.net. Thank you for reading!
Get ready for a big party at Dave & Buster's newest Valley location in Queen Creek. On Monday, May 15, the restaurant and family entertainment center held its grand opening with a …
Surging Southwest Valley
WNBA suspends Hammon 2 games, Aces lose 2025 1st-round pick after investigation
Police officer opens fire at bus at girls' school in Pakistan, killing 1, injuring 5
Browns finalize trade for edge rusher Za'Darius Smith, exclamation point for defensive overhaul
Monopoly concerns push FTC to sue to block Amgen's more than $26B deal for Horizon


YourValley.net
623-972-6101
17220 N Boswell Blvd
Suite 230E
Sun City AZ 85373
Email: azdelivery@iniusa.org
(Visited 1 times, 1 visits today)