Thanks a lot, but no thanks.
Thanks for the 10,000 steps a day and FaceTime,
Thanks for the darling iPhone that's mine,
But I'm a guy with only so much time,
Thanks a lot, but no thanks.
Apologies to the writers Betty Comden, Adolph Green and André Previn for butchering the text of their classic song, "Thanks a lot, but no thanks." I have not tried Apple's $3,500 Vision Pro VR headset. I've read about its amazing capabilities. Analysts are agog, but I'm out.
It's a thing of, well, not exactly beauty, but a sci-fi fantasy in 2023. It's controlled by using your eyes, voice and hands. It's the great-great-great grandson of the RED Classic ViewMaster 3D, Mattel's red binocular-like toy, first introduced in 1939 for children to view "3d" cardboard photos.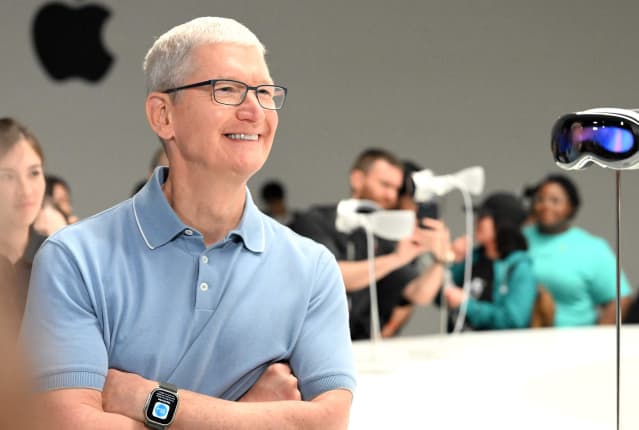 It supports fully immersive virtual reality as well as augmented reality, which places computer-generated objects over your view of the actual world. It can create a hyper-realistic 3D avatar while using FaceTime, and it's partnered with Disney
DIS,
+1.27%
so you can use it to watch movies.
The specs are amazing, as they say in the business. You will be able to host virtual meetings from your home for those who have not been called back to the office (in which case actual in-person meetings or — call me old-fashioned — Zoom
ZM,
+0.70%
will probably do just fine).
The technology will obviously develop and improve over time, and this high-end version appears to be primarily aimed at wealthy tech aficionados and developers. It has impressively clear visuals. Still, I'm not lugging around a battery pack that requires charging every two hours.
The iPhone has revolutionized and disrupted our lives. It keeps us entertained, connected, distracted and disconnected — from each other. I heard alarm bells when I read a positive review by Nilay Patel, editor-in-chief of the Verge. But he also described the Vision Pro VR experience as "oddly lonely."
Here's why I won't be buying the Vision Pro VR:
1. It costs $3,500. That's double the median monthly mortgage payment in the U.S., and it would put a roof over your head for 1.5 months as a renter. The median annual wage in the U.S. hovers around $53,000. That doesn't leave much left over every month for a VR headset.
2. I'll say it so you don't have to. It looks ridiculous. Like Google Glass
GOOG,
+1.01%
GOOGL,
+1.03%,
it makes people look more Gordon Geeko than Gordon Gekko. Even Charles III of England, then the Prince of Wales, couldn't seem to make Google Glass catch fire. He looked bemused, befuddled and bewildered. 
3. Speaking of royalty — heavy lies the crown. The Apple Vision Pro headset weighs just under a pound. The sight of attendees at the Caliverse Hyper-Realistic Metaverse experience trying it out gave me a fright. The headset is reportedly comfortable to wear, but grows heavy as time wears on.
4. I don't want to toggle between the real world and the virtual world. I want to be in the real world. I don't want to see the world through rose-colored glasses or a VR headset, I want the world to be rose-colored. More people with their heads stuck in devices is not a good thing.
5. In her WSJ review, tech reporter Joanna Stern lauded its 3D movie capabilities, and said its intuitive operation had the wow factor, but toggling between the real world and virtual world made her feel queasy. Apple said it's working on that before it's released next year.
6. Apple needs to increase its profits. Shareholders want to see the company's stock price continue to soar. Wearable tech is the next big thing. Supposedly. Apple hit a home run with the Apple Watch. But a watch is a watch. How much tech can a person actually wear? 
7. Personal tech harvests data from their customers and, while Silicon Valley companies repeatedly say they aggregate data and aim to protect your privacy, I don't want any more personal tech in my house. That includes VR headsets and smart speakers.
8. With the With Vision Pro, Apple says, "you have an infinite canvas that transforms how you use the apps you love. Arrange apps anywhere and scale them to the perfect size, making the workspace of your dreams a reality." I want to see paintings on my walls, not apps.
9. Studies suggest there may be a correlation between dissociative behavior and addiction to technology. While some apps are attempting to bring cognitive therapy to the immersive world of VR, it's far too early to tell the long-term implications on our mental health and brain function.
10. Reviewers noted that glasses wearers — that's me — require a prescription check for lenses made by Zeiss. They will be sold separately when the product is launched in 2024. So see that $3,500, sorry $3,499, price tag as a baseline price. I see more add-ons to come.
So that's it. These are my 10 reasons. 
Apple's CEO
AAPL,
-0.21%
Tim Cook has not answered the billion-dollar question: why do I need it? It can do a host of cool stuff — and I don't doubt it — but I don't believe it will improve my quality of life. I may "need" my iPhone to stay in touch with friends, family and colleagues. But why do I need this? Why?
Patel said it was the best headset demo ever. But he also had similar questions: "How do you watch a movie with other people in a Vision Pro? What if you want to collaborate with people in the room with you and people on FaceTime? What does it mean that Apple wants you to wear a headset at your child's birthday party?"
We need more real world — not less. I don't want to FaceTime with my Irish mother as a computer-generated avatar. I don't want to watch 3D movies with fly-like aluminum and shiny glass on my face. It's bad enough seeing people in the park glued to their phones. Will they now be spacing about with VR headsets?
"It's the first Apple product you look through, and not at," Tim Cook told the crowd at the Worldwide Developers Conference in Cupertino, Calif. during the headset's launch. I'd rather use my $3,500 and travel, or spend my time reading and looking through an actual window. And on that note…
Thanks for the Apple Pay, it's really fine,
And thanks for Facebook, Messenger and Instagram,
But I've already got a life that's Mark Zuckerberg and Tim Cook combined,
Thanks a lot, but no, no thanks.
(Visited 2 times, 1 visits today)