Just a few years ago, Linedy Genao was finding her way in the financial world, working as a banking assistant.
Then, something got in the way of her career plans: She became a Broadway star. 
Genao, 31, plays Cinderella in Andrew Lloyd Webber's new musical, "Bad Cinderella." It's the latest chapter in a fairy tale for our times; going from working as a bank teller to landing her first Broadway role by submitting a headshot that she snapped on her phone.
The New York-born and Connecticut-raised actress, who's the first Latina to originate a starring role in a Lloyd Webber show, didn't plan on being an actress. She found her way from banking to Broadway almost on a whim. But she's still got her finance background to fall back on; when theaters shut down during the pandemic, for example, she went back to banking for a period.
So MarketWatch caught up with Genao this week to hear her Cinderella story. Here's what we learned.
What drew her to finance in the first place?
Genao says she originally planned on a career in international business. She was inspired in part by her aunt, who runs a travel agency in the Dominican Republic, where her family hails from. "I wanted to do a line of work that allowed me to travel while making money," Genao says. 
She started working as a teller for TD Bank while attending the University of Connecticut, where she majored in business administration. After college, Genao found a job as an associate at Interaudi, a private New York-based bank. Her position was in the card department, where she handled charge disputes, fraudulent transactions and other matters. And she aspired to work her way up to a bigger role.
How did Broadway enter the picture?
Genao always loved singing, noting that her family was very involved in the church choir. She discovered musical theater in high school, where she landed roles in shows. But she didn't think she could make a career out of it, especially given that she was rejected by colleges with strong musical theater programs. So, she saw the arts as a side passion, at first — she performed in community theater and with a community chorus in her spare time. 
But after just 11 months with Interaudi Bank, she got a Facebook message from a high-school friend she acted with in shows, pointing her to an upcoming audition for the Broadway musical  "On Your Feet!" about the life and career of Gloria Estefan, the Latina musical icon. The friend insisted that Genao's name was "written all over it."
At the time, Genao didn't even have the requisite headshot needed for such an audition, so she took a selfie on her phone and then printed that out at a local pharmacy. "It was a horrendous picture," she recalls.
Did Genao get the gig?
Yes. She was in the show's ensemble, and also understudied the lead role of Gloria. "I could not believe this was happening," says Genao. From there, she did regional shows and appeared on the first national tour of "Dear Evan Hansen," the Tony-winning Broadway musical.  
And that was the end of her banking career?
Not quite. Like so many performers, Genao found herself unemployed when theaters closed during the COVID-19 pandemic. Then, she got an opportunity to return to Interaudi, working virtually as an independent contractor. Eventually, the bank even wanted to make her a regular employee again.
Genao says that she was tempted to "go back to a set career with a set salary." But her heart was now in show business — and she landed a part in the Broadway production of "Dear Evan Hansen" as Broadway theaters reopened. 
More recently, the opportunity arose to play Cinderella, which is her first Broadway lead role.
What is it like being the star in an Andrew Lloyd Webber show? 
Genao says that working with Lloyd Webber, the theatrical legend whose "Phantom of the Opera" recently closed, is a collaborative process. "I can't think of how many times he'll ask me, 'Are you happy with this?'" In the process, she says that Lloyd Webber has made her a more comfortable and confident performer. 
Still, Genao has had to deal with the fact that "Bad Cinderella," a cheeky take on the classic tale, has generally been panned by the theatrical press. "It hurts to see that," she says. She adds that the show's audience is not the critics, but the theatergoers she finds cheering on the cast with each performance: "Our show is fun and joyous and the audience every night loves it."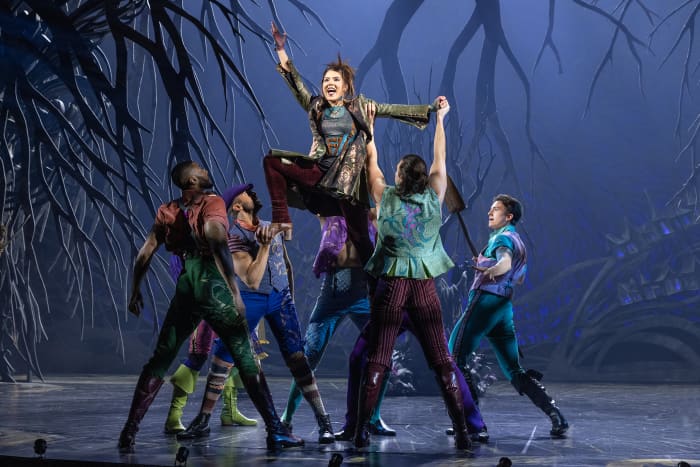 Does Genao see connections between being in banking and being on stage? 
Absolutely. She explains that basic employment skills — being efficient with your time, having a good work ethic — are applicable to both gigs. Plus, her banking work has helped her to be a stickler with details when reading performance contracts, she says. 
Genao has also become interested in the financial side of Broadway. "I love asking about the business aspects of the show. It's incredible to perform, but the numbers do matter," she says. Genao adds that if the acting thing doesn't work out, she might try her hand working in publicity on shows, or even producing.
But for now, she's committed to playing Cinderella eight times a week and enjoying a career she never imagined she'd have.
(Visited 2 times, 1 visits today)