Is it finally time for the major film, television and theater awards to make their acting categories gender neutral — that is, not defined in terms of actor and actress?
That's the talk after Sunday's Tony Awards ceremony. For the first time in the 76-year history of Broadway's big night, a non-binary performer was honored. In fact, two such performers took home Tony trophies: J. Harrison Ghee from "Some Like It Hot" was awarded best leading actor in a musical, and Alex Newell from "Shucked" was recognized as best featured actor in a musical.
In their acceptance speeches, neither performer specifically mentioned the issue of whether acting categories should go gender neutral. But both addressed the topic of gender identity.
"I should not be up here as a queer, non-binary, fat, Black little baby from Massachusetts," Newell said. "And to anyone that thinks that they can't do it, I'm going to look you dead in your face. That you can do anything you put your mind to."
Similarly, Ghee said: "For every trans, non-binary, gender-nonconforming human who ever was told you couldn't be, you couldn't be seen, this is for you."
Many LGBTQ+ people, as well as those advocating on their behalf, have argued that gendered acting categories don't reflect the reality of today's times, when more individuals choose not to define themselves as male or female. For example, 1.6 million people in the U.S. ages 13 or older identify as transgender, according to a report by the UCLA School of Law's Williams Institute, a research center focused on sexual orientation and gender identity.
Plus, an argument can be made for the fact that other award categories — say, for director of a film or show — aren't separated by gender. For that matter, there aren't gender categorizations made in other professions or in other situations, some observers note.
"It's an arbitrary distinction," Zachary Stewart, a writer for the TheaterMania website who has covered issues surrounding gendered acting categories, told MarketWatch. "There aren't doctors and doctresses. We don't separate Nobel Prize laureates by sex."
Perhaps just as significant an argument is the fact that some lesser-known award programs have already made the change. Those that have recently gone to gender-neutral categories include the Gotham Awards, which recognize the best in independent film and television, and the Lucille Lortel Awards, which honor achievement in New York's Off-Broadway community.
"'There aren't doctors and doctresses. We don't separate Nobel Prize laureates by sex.'"

— TheaterMania writer Zachary Stewart

With that said, of the big four EGOT (Emmy, Grammy, Oscar and Tony) awards, only the Grammys have done away with gender categorization.
The Tony Awards have already faced a challenge from one Broadway artist about the gender-identification issue. Justin David Sullivan, a performer who appears in the musical "& Juliet," withdrew from consideration for the Tony gendered acting categories this season.
"I felt I had no choice but to abstain from being considered for a nomination this season," Sullivan, a trans non-binary singer and actor, said in a statement reported by the New York Times. "I hope that award shows across the industry will expand their reach to be able to honor and award people of all gender identities."
So why haven't some of the major award programs made the change?
Mathew Rodriguez, a freelance journalist who covers LGBTQ+ issues, told MarketWatch that it may reflect the fact these are large organizations that don't take any change lightly. "Big ships take a long time to turn," Rodriguez said.
And in the current political climate, when many Republican-led states have enacted laws limiting the rights of transgender individuals, particularly children, awards categorization may be too much of a hot-button issue to touch, some say.
"I think there's always a fear of right-wing backlash," Rodriguez said.
Certainly, corporations have drawn backlash after showing support for transgender individuals. The most notable recent example: When Anheuser-Busch
BUD,
-0.02%
partnered with transgender activist Dylan Mulvaney on a campaign to promote its Bud Light brand, the uproar was such that sales of the beer plummeted.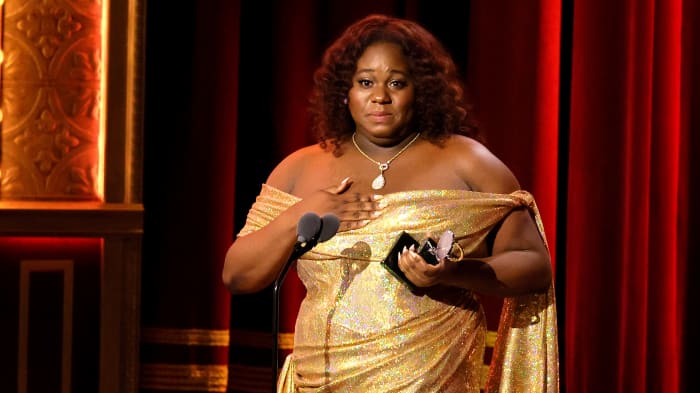 There's also the question of whether switching to a gender-neutral acting category might hurt women. The argument goes that the entertainment industry favors men — and if women didn't have their own platform, they might get easily passed over in a gender-neutral category in terms of being nominated or winning an award.
But some industry observers counter that that's a problem that speaks to larger issues of sexism in the entertainment world — and it's one that needs to be rectified on a macro level, meaning executives and casting directors must take women more seriously. The awards programs aren't the place to fix the issue, they say.
Officials with the Tony and Emmy Awards didn't immediately respond to a query from MarketWatch about instituting a gender-neutral acting category. Sources close to the Academy of Motion Picture Arts and Sciences, the organization behind the Oscars, told MarketWatch that inclusivity remains a concern and that research is being conducted on the subject of a gender-neutral acting category.
In the meantime, there's still the question of whether the recent high-profile wins by non-binary performers at the Tonys might themselves prompt change. Few industry insiders think they will have an immediate impact, especially given that both Newell and Ghee were willing to be considered in a gendered category, unlike Justin David Sullivan of "& Juliet."
But that doesn't mean the issue shouldn't be addressed, some say. Stewart of TheaterMania makes the point that theatergoers are generally a very open-minded, accepting group, and would likely support a move to a gender-neutral category.
"I think people who are tuning into the Tonys are OK with alternative forms of gender expression," he said.
(Visited 1 times, 1 visits today)