Shares of Tesla Inc. dropped again Monday, enough to enter "correction" territory, in the wake of more sales by Cathie Wood's ARK Investment exchange-traded funds and analyst downgrades.
The stock
TSLA,
-6.06%
sank 4.2% in afternoon trading Monday toward the lowest close in more than two weeks. The electric vehicle maker's shares have fallen 10.4% since they closed at a nine-month high of $274.45 on June 20.
Many on Wall Street define a "correction" as a decline of at least 10% to up to 20% from the latest significant peak. Declines of at least 20% or more are seen as bear markets.
A close in Tesla's stock below $247.01 would make the correction official. It would enter bear-market territory if fell to or below $219.56.
The stock's selloff comes after multiple Wall Street analysts downgraded the EV maker's stock in the past week, including a rating cut to neutral from buy at Goldman Sachs on Monday.
Read: Tesla deliveries could bring upside, with Deutsche Bank flagging China strength.
And Cathie Wood's ARK Investment disclosed late Friday more sales of Tesla shares by its exchange-traded funds (ETFs), to bring the total number of shares sold in June to more than 500,000.
Read: Musk vs. Zuckerberg: Which tech heavyweight is already winning the Wall Street cage match?
The ARK Innovation ETF
ARKK,
-0.57%
sold 13,747 Tesla shares on June 23 and the ARK Net Generation Internet ETF
ARKW,
-1.00%
sold 14,094 shares.
That brings the total sold by ARK Innovation to 410,569 shares and the total sold by ARK Net Generation Internet to 63,428 shares.
And while the ARK Autonomous Technology and Robotics ETF
ARKQ,
-0.79%
didn't sell shares on Friday, it has sold a total of 51,608 Tesla shares so far this month.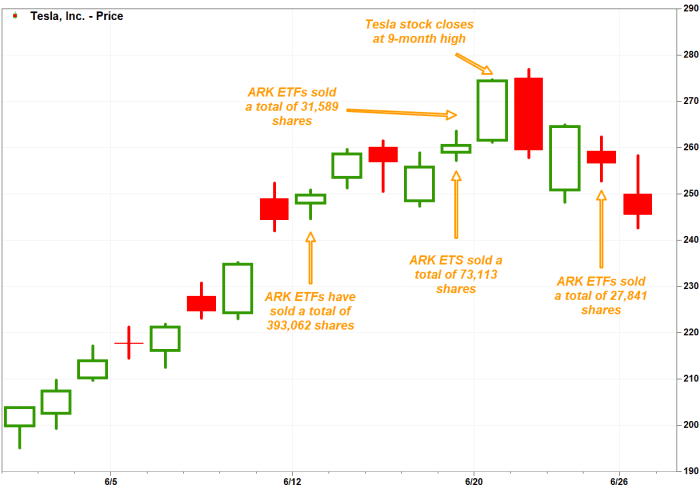 The shares sold were worth a total of $132.16 million, based on a MarketWatch weighted-average calculation of volume-weighted average closing prices (VWAP) on the day the shares were sold.
The ratings downgrades and ARK ETF sales followed outsized gains in Tesla shares. Even with the correction, the stock has run up 20.6% in June, enough to make it currently the fourth-best performer in the S&P 500 index
SPX,
-0.45%
this month.
Year to date, Tesla has soared 99.6% year to date, making it the S&P 500's third-best performer this year. The S&P 500 has gained 13.1% in 2023.
(Visited 1 times, 1 visits today)