It took a while, but investors now appear to be overweight U.S. equities, according to analysts at Deutsche Bank.
For some market watchers, that might underline concerns about the threat of a near-term pullback after five consecutive weekly gains for the S&P 500 that have propelled the large-cap benchmark back into bull-market territory.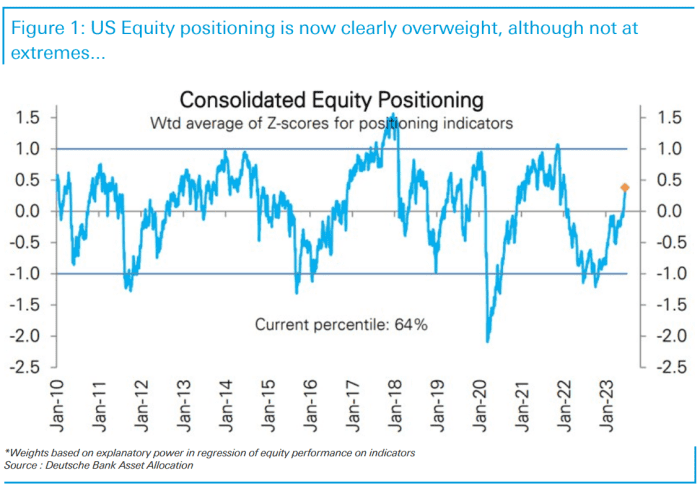 The chart above, a measure of historical positioning, shows the U.S. equity weighting is at the 64th percentile. The reading isn't in extreme territory, but the shift is noteworthy, said Deutsche Bank strategist Jim Reid in a Tuesday note.
The banks' equity strategists "have been telling us for months that investors were aggressively underweight U.S. equities," he wrote. "Over the last couple of weeks, their aggregate measure has finally moved into overweight territory."
What's the driver? Systematic trading strategies, also known as algorithmic or automatic trading systems, had pushed positioning higher over the first five months of the year form very underweight levels, Reid said, but the shift over the last two weeks was driven by discretionary investors.
"They had remained staunchly underweight until the end of May, but with a selloff failing to materialize and equities rallying, discretionary investors finally flipped from underweight to overweight last week and now this week to the highest since April 2022," Reid wrote.
Extreme positioning in either direction can be viewed as a contrarian indicator. After all, if the vast majority of investors are long stocks, it raises the question of who is left to buy. The opposite dynamic may apply when investors are extremely underweight.
"As you can see we're not at early 2022 levels of overweight positioning but the balance has shifted in recent weeks as FOMO seems to have taken over," Reid said, using the acronym for "fear of missing out." The 2023 equity market rally has been seen sucking in bearish investors who had sat out the early part of the rally.
The S&P 500
SPX,
-0.47%
earlier this month met the criteria for exiting its longest bear-market since 1948 and on Friday booked its fifth straight weekly gain, after ending Thursday at its highest since April 2022.
The S&P 500 is up more than 14% in the year to date, in a rally that's been fueled largely by a handful of megacap tech stocks, though gains have broadened out somewhat in recent weeks. The tech-heavy Nasdaq Composite
COMP,
-0.16%
has soared more than 30% so far this year, while the Dow Jones Industrial Average
DJIA,
-0.72%
has lagged behind, up less than 3%.
Read: Summer doldrums' in stocks put to the test as doubts linger on more Fed rate hikes
Stocks were modestly lower Tuesday afternoon as U.S. investors returned from a three-day weekend following the Juneteenth holiday. Investors were awaiting congressional testimony Tuesday and Wednesday by Federal Reserve Chair Jerome Powell, after the central bank last week left rates unchanged but signaled a pair of quarter-point rate increases likely remained necessary.
See: 'Confused' markets get another chance to hear Fed's Powell 'flesh things out' on 2023 rate path
(Visited 1 times, 1 visits today)