The Scottsdale REALTORS trade association installed a new Leadership Team, recognized its Leadership Academy Class 25 and presented special awards at a private ceremony on Nov. 16.
2023 President …
Already have an account? Log in to continue.
Current print subscribers can create a free account by clicking here.
Otherwise, click here to subscribe.


To Our Valued Readers –
Visitors to our website will be limited to five stories per month unless they opt to subscribe. The five stories do not include our exclusive content written by our journalists.
For $6.99, less than 20 cents a day, digital subscribers will receive unlimited access to YourValley.net, including exclusive content from our newsroom and access to our Daily Independent e-edition.
Our commitment to balanced, fair reporting and local coverage provides insight and perspective not found anywhere else.
Your financial commitment will help to preserve the kind of honest journalism produced by our reporters and editors. We trust you agree that independent journalism is an essential component of our democracy. Please click here to subscribe.
Sincerely,
Charlene Bisson, Publisher, Independent Newsmedia


Click here to see your options for becoming a subscriber.
Click here create a free account for posting comments. Note that free accounts do not include access to premium content on this site.

The Scottsdale REALTORS trade association installed a new Leadership Team, recognized its Leadership Academy Class 25 and presented special awards at a private ceremony on Nov. 16.
2023 President Chris Nace, President-Elect Peggy Neely, Vice President Allison Cahill, Treasurer Stacey Krolak and Immediate Past President Sandy Lunsford were sworn in along with attending board members. New and returning board members for 2023 are Aaron Bils, Polly Blackwell, Allison Cahill, Riley Cilley, Jeff Dial, Allie Jennings, Polly Mitchell and Jessica Noble.
"Being sworn in by my designated broker, David MacIntyre, was an honor," Nace said in a press release. "He has 60 years of real estate experience and inspires me every day."

Nace said one of his goals for 2023 is to reenergize the association's Young Professionals Network. His 12-month term begins Dec. 1.
Eighteen members of Scottsdale REALTORS Leadership Class 25 were also recognized: Laurie Cairns, Amy Dox, Cyndi Dunham, Lauren Fitzpatrick, Alexander Gonzalez, Stacey Krolak, Kimberly MacDonald, Racquel Miller, Kendal Mohr, Greg Mona, Raquel Moriki, Brett Nicholas, Stefano Pecci, Tara Riley, Nolan Rucker, Rachel Tarman, Hannah Warde and Erin Young.
Presentations were then made for REALTOR of the Year Shauna Huisman, Emerging REALTOR of the Year Chey Tor, Commercial REALTOR of the Year Pat Sheahan, Affiliate of the Year Helena Donahoe, Caring Heart Award winner Sabrina Walters and Citizen of the Year Christopher Groesbeck, landlord liaison for the city of Scottsdale.
Other items that may interest you
Most popular stories in Scottsdale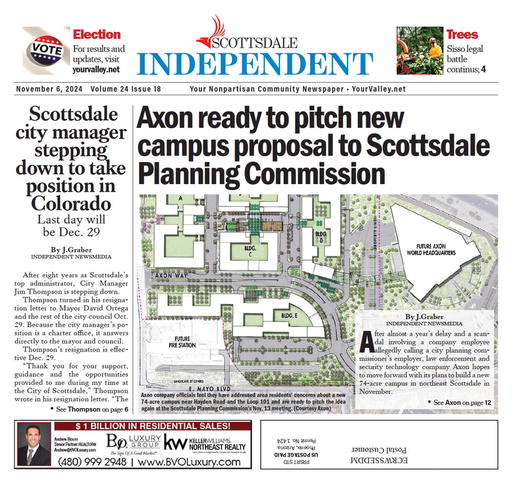 Read the latest print edition here.
View this issue
Browse other issues
Simply submit your e-mail address below, click on the opt-in email link and watch your inbox for news from the Daily Independent at YourValley.net. Thank you for reading!
Locally and family owned Mochilero Kitchen is bringing its authentic Mexican cuisine to Scottsdale and to get ready for the grand opening the restaurant is looking to hire more than 45 new employees. …
For Scottsdale artists, experimenting is key to growth
SUSD bus driver recruitment event is May 20
New drama series 'Scottsdale' coming to screens soon
Peoria-based Mochilero Kitchen to open second location in Scottsdale
5 tips for keeping adult online learners engaged


YourValley.net
623-972-6101
17220 N Boswell Blvd
Suite 230E
Sun City AZ 85373
Email: azdelivery@iniusa.org
(Visited 2 times, 1 visits today)