Landmark Title Assurance Agency recently hired Cynthia Lujan to fill the new position of vice president of sales in Arizona.
Lujan will focus on expanding Landmark Title's client base and …
Already have an account? Log in to continue.
Current print subscribers can create a free account by clicking here.
Otherwise, click here to subscribe.


To Our Valued Readers –
Visitors to our website will be limited to five stories per month unless they opt to subscribe. The five stories do not include our exclusive content written by our journalists.
For $6.99, less than 20 cents a day, digital subscribers will receive unlimited access to YourValley.net, including exclusive content from our newsroom and access to our Daily Independent e-edition.
Our commitment to balanced, fair reporting and local coverage provides insight and perspective not found anywhere else.
Your financial commitment will help to preserve the kind of honest journalism produced by our reporters and editors. We trust you agree that independent journalism is an essential component of our democracy. Please click here to subscribe.
Sincerely,
Charlene Bisson, Publisher, Independent Newsmedia


Click here to see your options for becoming a subscriber.
Click here create a free account for posting comments. Note that free accounts do not include access to premium content on this site.
Landmark Title Assurance Agency recently hired Cynthia Lujan to fill the new position of vice president of sales in Arizona.
Lujan will focus on expanding Landmark Title's client base and its service to real estate agents throughout the state, according to a press release.

Lujan, originally from Tucson, brings more than three decades of industry experience to the Landmark Title team. She was a top producing business development manager for two Fortune 500 companies. Prior to joining Landmark Title, Lujan was a sales executive for a national title company. Lujan is an Arizona State University graduate with a Bachelor of Arts in communications.
"Cynthia Lujan is a leader in the Arizona market with a proven track record at relationship building," Kristi Smith, executive vice president, said in the release. "Her experience in the real estate sector and success in business development is an asset to the company, the realtors and their clients that we serve."
Landmark Title is headquartered in Phoenix where the company currently operates six offices in the area, one in Prescott and two in Nevada. To learn more about Landmark Title and its services, visit ltaag.com or contact the company at 602-748-2800.
Other items that may interest you
Most popular stories in Scottsdale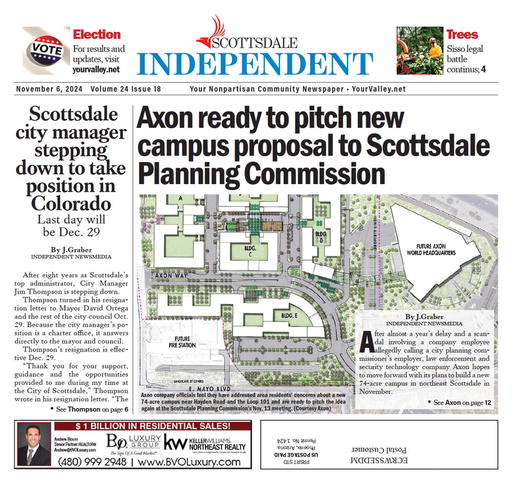 Read the latest print edition here.
View this issue
Browse other issues
Simply submit your e-mail address below, click on the opt-in email link and watch your inbox for news from the Daily Independent at YourValley.net. Thank you for reading!
Children who experience adverse experiences — including abuse, neglect and household challenges — are more likely to have negative outcomes in adulthood, data show. Experts say this …
The Saguaros grant over $1.7M to 28 Arizona children's charities
Ortega: House Bill 2561 will be a Trojan horse in Scottsdale
Scottsdale officer injured in crash
David James Melena
Students from Paradise Valley, Peoria earn university Dean's List


YourValley.net
623-972-6101
17220 N Boswell Blvd
Suite 230E
Sun City AZ 85373
Email: azdelivery@iniusa.org
(Visited 1 times, 1 visits today)