The city of Scottsdale began licensing short-term rentals on Monday.
The city's ordinance, adopted unanimously by the council in October, requires rental property owners/operators to obtain a …
Already have an account? Log in to continue.
Current print subscribers can create a free account by clicking here.
Otherwise, click here to subscribe.


To Our Valued Readers –
Visitors to our website will be limited to five stories per month unless they opt to subscribe. The five stories do not include our exclusive content written by our journalists.
For $6.99, less than 20 cents a day, digital subscribers will receive unlimited access to YourValley.net, including exclusive content from our newsroom and access to our Daily Independent e-edition.
Our commitment to balanced, fair reporting and local coverage provides insight and perspective not found anywhere else.
Your financial commitment will help to preserve the kind of honest journalism produced by our reporters and editors. We trust you agree that independent journalism is an essential component of our democracy. Please click here to subscribe.
Sincerely,
Charlene Bisson, Publisher, Independent Newsmedia


Click here to see your options for becoming a subscriber.
Click here create a free account for posting comments. Note that free accounts do not include access to premium content on this site.
The city of Scottsdale began licensing short-term rentals on Monday.
The city's ordinance, adopted unanimously by the council in October, requires rental property owners/operators to obtain a Scottsdale license for each property and comply with several safety, health and neighbor notification requirements.
Under the ordinance, a license is needed for each individual property. Scottsdale's licensing portal opened Nov. 28, and current properties must obtain a license by Jan. 8, 2023.
New short-term rentals also must be licensed before being rented out. The annual license fee is $250 per property. All fees go 100% to cover costs associated with licensing vacation and short-term rentals.
All Scottsdale short-term and vacation rental properties with active listings will receive a letter from the city notifying them of the requirements and directing them to apply for a license via the city's online portal. Even if property owners don't recieve a letter, they must obtain a license.
All short-term and vacation rental property operators must carry liability insurance and conduct sex offender background checks on booking guests. The ordinance contains requirements for notifying neighbors before a vacation rental is offered for the first time or any time contact information changes.

Other requirements are that properties must be cleaned between each stay, have working smoke alarms and regular pest control. Properties that have pools, spas or hot tubs must comply with the city's barrier requirements by May 23, 2023.
Events are not permitted at rentals under the ordinance.
Visit ScottsdaleAZ.gov and search "short-term rental" to learn more about the city, county and state requirements for short-term and vacation rental properties, apply for a license, and find resources for neighborhoods.
Other items that may interest you
Most popular stories in Daily Independent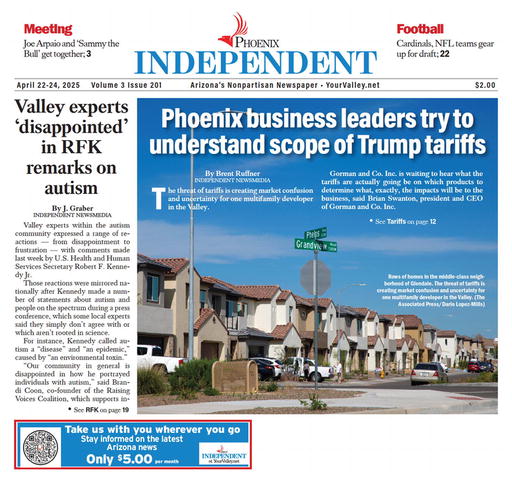 Read the latest print edition here.
View this issue
Browse other issues
Simply submit your e-mail address below, click on the opt-in email link and watch your inbox for news from the Daily Independent at YourValley.net. Thank you for reading!
Jake Fraley homered twice, including a tiebreaking three-run shot in the ninth inning that sent the Cincinnati Reds past the Miami Marlins 7-4. Eury Pérez struck out seven over 4 2/3 innings in his …
Cousins scores in OT to send Panthers into Eastern Conference final after 3-2 win over Maple Leafs
Corbin Burnes' arm, Owen Miller's bat lead Brewers to 5-1 victory over Royals
Mervis double sparks Cubs rally in 7th past Twins 5-2 to open 9-game trip
Chris Bassitt pitches 2-hitter to lead Blue Jays past Braves 3-0
Orioles' Cedric Mullins hits for the cycle against Pirates


YourValley.net
623-972-6101
17220 N Boswell Blvd
Suite 230E
Sun City AZ 85373
Email: azdelivery@iniusa.org
(Visited 1 times, 1 visits today)