BedBrock, Paradise Valley home builder with a residential brokerage led by Rich Brock and Silje Garner, announced a co-listing agreement with Kirk Linehan and Chris Morrison of RETSY, for their luxury community Crown Canyon. 
Already have an account? Log in to continue.
Current print subscribers can create a free account by clicking here.
Otherwise, click here to subscribe.


To Our Valued Readers –
Visitors to our website will be limited to five stories per month unless they opt to subscribe. The five stories do not include our exclusive content written by our journalists.
For $6.99, less than 20 cents a day, digital subscribers will receive unlimited access to YourValley.net, including exclusive content from our newsroom and access to our Daily Independent e-edition.
Our commitment to balanced, fair reporting and local coverage provides insight and perspective not found anywhere else.
Your financial commitment will help to preserve the kind of honest journalism produced by our reporters and editors. We trust you agree that independent journalism is an essential component of our democracy. Please click here to subscribe.
Sincerely,
Charlene Bisson, Publisher, Independent Newsmedia


Click here to see your options for becoming a subscriber.
Click here create a free account for posting comments. Note that free accounts do not include access to premium content on this site.
BedBrock, Paradise Valley home builder with a residential brokerage led by Rich Brock and Silje Garner, announced a co-listing agreement with Kirk Linehan and Chris Morrison of RETSY, for their luxury community Crown Canyon.
Aligned in their commitment to quality and excellence, the two firms join forces to sell and market the Crown Canyon community to high net-worth individuals across the world, according to a press release.
BedBrock's luxury subdivisions' Kachina and Cameldale Estates surpassed the highest price-per-square-foot record in Paradise Valley.
Building on that success, BedBrock is now developing Crown Canyon, Arizona's most exclusive private enclave of 12 luxury homes on 30 acres in the untouched Phoenix Mountain Preserve.
This project represents the ultimate fusion of urban convenience, natural beauty and exclusivity with the most coveted Paradise Valley address, the release stated.
RETSY's tech-driven marketing approach paired with BedBrock's long-standing relationships in the luxury real estate market makes a solid force to attract the right buyers for the unique development.
With more than a quarter of a billion dollars in sales in the last five years, RETSY founder Chris Morrison's well-established reputation and unmatched market knowledge have made him a front-runner in the Phoenix residential real estate industry, the release continued.
RETSY's Kirk Linehan and Davon Wade of The LinehanWADE Real Estate group have extensive experience in the luxury housing market and have excelled in catering to high-end buyers and sellers in Paradise Valley for the better part of a decade.

With that proven track record, Linehan and Wade gained the confidence of Phoenix Suns' star player and shooting guard Devin Booker to sell his first home in Paradise Valley, which was built by BedBrock Developers.
"Davon Wade and his partner Kirk Linehan from The LinehanWADE Group are the best in the business in terms of service and dedication. They helped my family and I settle into the perfect homes," said Booker in the release. "Given that BedBrock built my home, I'm thrilled to see these great companies coming together in a more formal way."
In September 2021, RETSY was selected as the exclusive representation of Forbes Global Properties in Arizona. Inclusion within the Forbes network further extended RETSY's local and global reach to a discerning audience known to appreciate luxury, quality, and extravagant homes aligning perfectly with BedBrock's repertoire.
Recognized as an award-winning luxury home builder in Paradise Valley, BedBrock offers 25 years of custom home expertise. Rich Brock started BedBrock Real Estate Company with a vision to create the ultimate, high-end experience for his clients, elevating the expectations for how real estate transactions are conducted.
The co-listing force between BedBrock Real Estate Company and RETSY combined with the Forbes affiliation is unmatched.
"Our clientele epitomizes the powerful Forbes brand and expects the level of service delivered by RETSY and LinehanWADE so we are excited to bring our Crown Canyon listings to the partnership," said Rich Brock in the release. "I have full confidence that the RETSY team will represent this one-of-a-kind community with the diligent level of expertise needed."
"RETSY's listings are distributed across Forbes and Forbes Global Properties platforms, which has been proven to deliver remarkable engagement and success with Forbes' audience of more than 100 million monthly visitors," said Linehan.
"This global access allows us to inform potential homebuyers and sellers throughout the world of the Valley's market conditions and showcase the finest properties for sale through print, digital, and social media channels, including expert commentary, timely market data, and top-tier editorial. This capability is truly powerful and will be essential in our marketing of the Crown Canyon development."
Other items that may interest you
Most popular stories in Daily Independent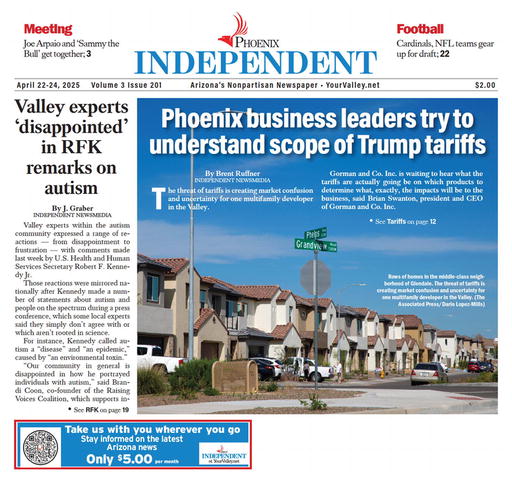 Read the latest print edition here.
View this issue
Browse other issues
Simply submit your e-mail address below, click on the opt-in email link and watch your inbox for news from the Daily Independent at YourValley.net. Thank you for reading!
The Arizona Diamondbacks host the San Francisco Giants to start a four-game series.
Jacklyn Zeman, veteran 'General Hospital' cast member who played Bobbie Spencer, has died
Domestic issues give Turkey's Erdogan a tough election race
Western weapons, growing experience harden Ukrainian air defenses against renewed Russian onslaught
How Europe is building artificial intelligence guardrails
Bank of England set to raise UK interest rates to highest level since 2008


YourValley.net
623-972-6101
17220 N Boswell Blvd
Suite 230E
Sun City AZ 85373
Email: azdelivery@iniusa.org
(Visited 1 times, 1 visits today)