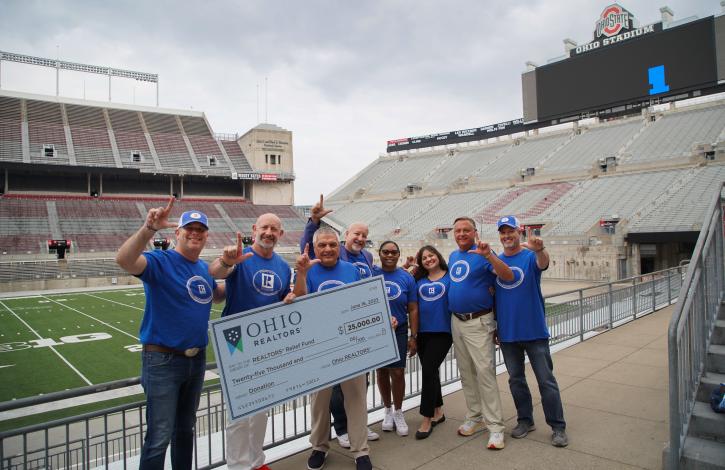 Ohio REALTORS celebrate 'Riding With The Brand' at the 'Shoe
Jun 22, 2023
(From left): Pete Kopf, National Association of REALTORS (NAR) 2023 Vice President of Advocacy; Kenny Parcell, NAR 2023 President; Ralph Mantica, Ohio REALTORS 2023 President; Gary Reggish, 2023 NAR Region 6 Vice President; Michelle Billings Ohio REALTORS 2023 Treasurer; Ali Whitley, Ohio REALTORS 2023 President-elect; Greg Hrabcak, NAR 2023-2024 Treasurer; and Scott Williams, Ohio REALTORS Chief Executive Officer.
By Allison Wiley, Ohio REALTORS Director of Digital Marketing
Ohio REALTORS celebrated the arrival of the National Association of REALTORS Riding With The Brand bus June 16 with a sold-out event at Ohio Stadium, home of The Ohio State University Buckeyes, that attracted hundreds of REALTORS, families and friends. The event afforded REALTORS an opportunity to celebrate the profession and strengthen the common bond membership shares of helping make home happen, facilitating businesses to open their doors and, most importantly, playing a key role in building strong, vibrant communities.
"What we do, on a daily basis, is vitally important," said Ohio REALTORS President Ralph Mantica. "Whether we're assisting buyers and sellers in their pursuit of the American Dream, sharing our expertise to improve the REALTOR Association, or embracing opportunities to make our individual communities stronger…REALTORS continually make a meaningful difference."
Throughout the day, the Ohio REALTORS Leadership Team, along with NAR 2023 President Kenny Parcell, 2023-2024 NAR Treasurer Greg Hrabcak, and NAR Vice President of Advocacy Pete Kopf, used the Riding With The Brand bus to boost the REALTOR profile with visits to key locales throughout the city, including the Association's headquarters and Ohio Statehouse, prior to arriving at Ohio Stadium.
The sold-out party at the Horsehoe put the REALTOR brand in the spotlight, with the displays on the stadium scoreboard, live music and special presentations. REALTORS and their families were able to take tours of the stadium, spend time in the bus, grab photos of the REALTOR-branded motorcycle, and just celebrate with peers. The event also attracted a number of Ohio lawmakers, including Ohio Secretary of State Frank LaRose and members of the General Assembly.
The evening's highlight featured President Mantica presenting a $25,000 check to the REALTORS Relief Foundation. Mantica recalled that the Foundation played a significant role in providing more than $533,000 in much-needed assistance to Ohioans whose homes and lives were affected by a series of tornadoes that devasted the state's Miami Valley region in early 2019.
"The REALTORS Relief Foundation was our partner, from day one, in helping us rebuild lives and communities," Mantica said. "Since we're gathered here in Ohio Stadium, it seems appropriate to quote Coach Woody Hayes, who once said: 'You can never really pay back. You can only pay forward.'
"Ohio REALTORS is pleased to make this investment in the Foundation so it can build upon its remarkable work."
(Visited 1 times, 1 visits today)