Cameron Beckert is rebranding her family's Scottsdale-based homebuilding business to Cameron Custom Homes & Renovations.
Beckert grew up in the homebuilding business. In 1969, her …
Already have an account? Log in to continue.
Current print subscribers can create a free account by clicking here.
Otherwise, click here to subscribe.


To Our Valued Readers –
Visitors to our website will be limited to five stories per month unless they opt to subscribe. The five stories do not include our exclusive content written by our journalists.
For $6.99, less than 20 cents a day, digital subscribers will receive unlimited access to YourValley.net, including exclusive content from our newsroom and access to our Daily Independent e-edition.
Our commitment to balanced, fair reporting and local coverage provides insight and perspective not found anywhere else.
Your financial commitment will help to preserve the kind of honest journalism produced by our reporters and editors. We trust you agree that independent journalism is an essential component of our democracy. Please click here to subscribe.
Sincerely,
Charlene Bisson, Publisher, Independent Newsmedia


Click here to see your options for becoming a subscriber.
Click here create a free account for posting comments. Note that free accounts do not include access to premium content on this site.
Cameron Beckert is rebranding her family's Scottsdale-based homebuilding business to Cameron Custom Homes & Renovations.
Beckert grew up in the homebuilding business. In 1969, her grandparents J.W. and Maggi Hancock founded Camelot Homes in Scottsdale and a decade later, her parents Mark and Julie Hancock took the helm of the company. As a child, she had a front row seat to the inner workings of the luxury homebuilder, a press release stated.
In 2019, after building her sales, marketing and real estate development experience leading Camelot's sales and marketing department, Beckert saw the opportunity to kick off Camelot's custom home and renovation business. She is now launching the newly rebranded Cameron Custom Homes & Renovations.
"When we introduced our White Horse community in 2018, it garnered an incredible amount of media attention and national awards," Beckert said in the release. "Among the thousands of people walking through the model home, there were quite a few who approached us and asked if we could build that model on their land or renovate their current home to reflect the design of those homes."

Beckert, who was involved in the Young Presidents Organization global leadership program at Harvard University at the time, said she decided to focus a case study on creating a custom home and renovation company under the Camelot umbrella.
"I did a lot of soul searching. Should I start this business? Was the timing right? Through that experience, I realized there was a market for this business, and it lit the spark for me to take everything I had learned and go for it," Beckert said in the release.
She started with two renovation projects in 2019, then took a step back during the pandemic to build the team and establish the foundation that would prepare the company for growth, according to the release. Now in 2023, Beckert announced the newly rebranded Cameron Custom & Renovations, which currently has over two dozen projects in the works.
"I have an incredible team of professionals, and we are dedicated to providing a luxurious, turn-key experience and the grounded warmth that makes our clients feel like a part of the family," Beckert said in the release.
Those looking to build a custom home or renovate their current home can go to Camelot Design Center in Scottsdale. The sprawling showroom allows for a white-glove approach to selecting every surface, touch point, appliance and finish.
Other items that may interest you
Most popular stories in Daily Independent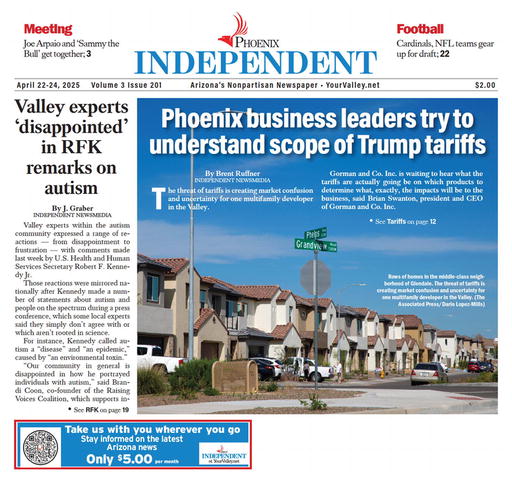 Read the latest print edition here.
View this issue
Browse other issues
Simply submit your e-mail address below, click on the opt-in email link and watch your inbox for news from the Daily Independent at YourValley.net. Thank you for reading!
Prince Harry has arrived at a London court ahead of his testimony against a tabloid publisher he accuses of phone hacking and other unlawful snooping. Harry has made a mission of holding the U.K. …
Diamondbacks visit the Nationals to start 3-game series
Albies leads Braves against the Mets after 4-hit game
Prince Harry gets his day in court against tabloids he accuses of blighting his life
Ukraine to open hearings in case against Russia at top UN court
Stock market today: Asian stocks mixed after Wall St retreats on concern economy weakening


YourValley.net
623-972-6101
17220 N Boswell Blvd
Suite 230E
Sun City AZ 85373
Email: azdelivery@iniusa.org
(Visited 1 times, 1 visits today)