Location. Location. Location. It's the real estate mantra that drives the industry and in Arizona it still proves to be the case. I've been in the residential market for nearly 40 years …
Already have an account? Log in to continue.
Current print subscribers can create a free account by clicking here.
Otherwise, click here to subscribe.


To Our Valued Readers –
Visitors to our website will be limited to five stories per month unless they opt to subscribe. The five stories do not include our exclusive content written by our journalists.
For $6.99, less than 20 cents a day, digital subscribers will receive unlimited access to YourValley.net, including exclusive content from our newsroom and access to our Daily Independent e-edition.
Our commitment to balanced, fair reporting and local coverage provides insight and perspective not found anywhere else.
Your financial commitment will help to preserve the kind of honest journalism produced by our reporters and editors. We trust you agree that independent journalism is an essential component of our democracy. Please click here to subscribe.
Sincerely,
Charlene Bisson, Publisher, Independent Newsmedia


Click here to see your options for becoming a subscriber.
Click here create a free account for posting comments. Note that free accounts do not include access to premium content on this site.
Location. Location. Location. It's the real estate mantra that drives the industry and in Arizona it still proves to be the case. I've been in the residential market for nearly 40 years — specializing in Arcadia, Paradise Valley, the Biltmore area and Scottsdale.
Right now, it's an interesting market to be sure. Rising interest rates, mortgage hikes, inflation and a possible recession have altered the market and the behaviors of our residential buyers.
However, one thing remains true: Arizona continues to be a huge growth market and people want to live, work and raise a family here. It's always been that way — good markets and bad — and remains so today.
While many folks and those choosing Arizona for their home come from all over the U.S. — the Midwest, the East Coast and California, I've been seeing an interesting trend. Many of the buyers of the luxury residential market are coming from the Pacific Northwest, especially Seattle.
They are seeking sunny skies, a stable economy and a safe place to raise their families.
Surely, there are challenges, especially in the luxury market. A recent report by real estate brokerage Redfin shows that in the three months ending Aug. 31, sales of luxury U.S. homes dropped 28%, from the same period last year. That marks the biggest decline since at least 2012, when Redfin's records began, and eclipses even the 23% decrease recorded during the onslaught of the pandemic in 2020, the report said.
Still, Arizona remains resilient and continues to prove it is a solid market.
According to CoreLogic, homeowner equity, nationally, reached new heights over the past few years. In fact, U.S. homeowners gained more than $3.5 billion in equity over the past few years. This is impressive given rising mortgage rates and inflation overall.
While the National Association of Realtors reported sales of U.S. homes fell over the summer, the year-over-year increase has boosted national median prices.
Arizona, and specifically Greater Phoenix, remains a good value for those choosing to relocate and move into larger homes. As history has proven, and with my decades of experience, I believe this to remain true.
As areas close to downtown have become more expensive — simply an effect of supply and demand — regions outside the Valley like Gilbert, Pinal County and Western Maricopa County have seen huge gains in interest.
This is not only apparent in home sales, but in the economic wins our Valley continues to gain with semiconductor, industrial, data centers and other industries seeing huge opportunities in Greater Phoenix.
It goes back to the mantra: Location, Location, Location. And fortunately, we are located in a hugely desirable place that will remain so and ripe for opportunity.

Other items that may interest you
Most popular stories in Scottsdale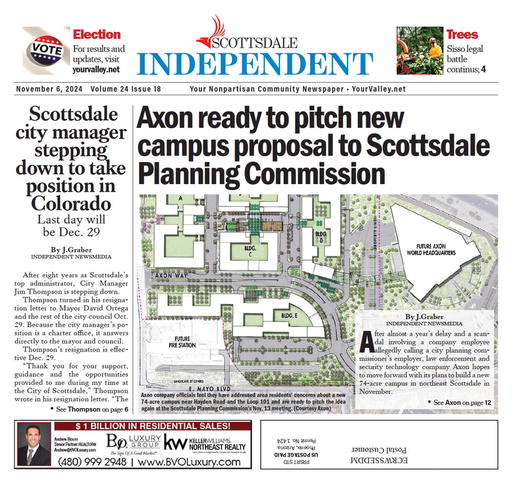 Read the latest print edition here.
View this issue
Browse other issues
Simply submit your e-mail address below, click on the opt-in email link and watch your inbox for news from the Daily Independent at YourValley.net. Thank you for reading!
A 38-year-old man has been booked into the Scottsdale City Jail on charges connected to a stabbing Monday morning near the Scottsdale Quarter. Marco Antonio Aguilera faces felony and misdemeanor …
2 injured in Scottsdale Quarter stabbings
Discover Strength opens Scottsdale location
Scottsdale 4th of July Celebration returns to WestWorld
Valley brewery using recycled water to make beer
108th Southwestern Amateur Tournament to be held at Desert Mountain


YourValley.net
623-972-6101
17220 N Boswell Blvd
Suite 230E
Sun City AZ 85373
Email: azdelivery@iniusa.org
(Visited 1 times, 1 visits today)