Wall Street in May restarted its commercial-real estate debt machine after activity recently ground to a halt, with the hitch that it's now more expensive for landlords to afford financing.
Goldman Sachs analysts pegged the average coupon on new loans from Wall Street to finance hotels, shopping centers and other commercial property types at slightly more than 7% (see chart), roughly double the pandemic lows of closer to 3.5%.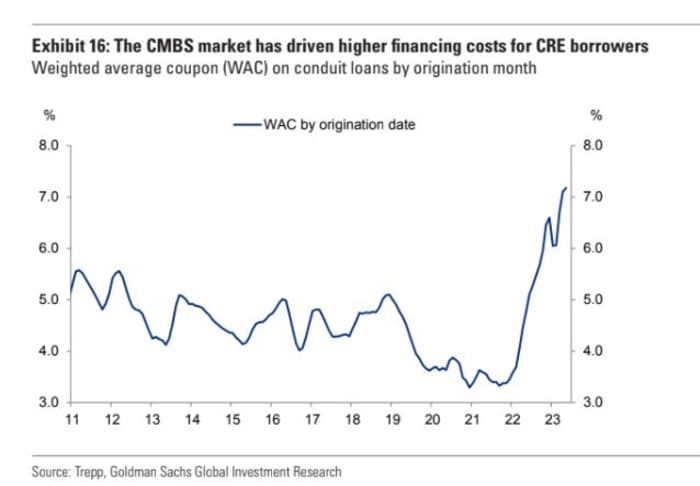 Known as the "commercial mortgage-backed securities" (CMBS) market, the debt source isn't as big a supplier of loans to landlords as banks or insurance companies, but it matters because it's often the cheapest mode of financing available.
That's partially because the loans aren't retained by the originator, but instead bundled into bonds that are sold to investors, who shoulder the risks of any borrower defaults.
CMBS is priced at a spread, or premium, above the risk-free 10-year Treasury rate
TMUBMUSD10Y,
3.742%,
which was at 3.75% on Friday.
Wall Street packaged up some $5 billion in new property loans into bond deals in May, after about $8 billion in deals for the first four months of 2023, according to Goldman credit researchers.
"That said, the terms of credit remain squarely in favor of lenders, with a steep decline in leverage (i.e., lower LTVs) and a marked reduction in the share of loans backed by office properties," Goldman's credit team led by Lotfi Karoui, wrote in a weekly client note.
The worry is that credit has been harder for landlords to obtain as billions of dollars in loans come due, and as property prices wobble. This backdrop has some major industry heavyweights already this year handing back the keys to lenders, instead of standing by struggling properties.
Read: Office property woes could be tip of iceberg if credit freezes up as $1 trillion bill comes due
Despite the May uptick, CMBS volumes were down about 80% from a year ago, with some buyers trying to reduce their exposure in the sector, but facing poor liquidity in parts of the market, according to a weekly update from Deutsche Bank researchers.
With that backdrop, the Deutsche team cut its issuance forecast for the year to $31 billion from $78 billion.
Earlier this week, Treasury Secretary Janet Yellen said she expects "issues" in commercial real-estate, particularly the office sector, to strain banks but not something that can't be managed.
Stocks were advancing for the week on Friday, with the S&P 500 index
SPX,
+0.11%
exiting its longest bear market in about 75 years, and on pace for a 0.5% weekly gain, according to FactSet. The Dow Jones Industrial Average
DJIA,
+0.13%
was about 0.4% higher for the week, while the Nasdaq Composite Index
COMP,
+0.16%
was up 0.3%.
Read from December: The party is over in commercial real estate. Here's what to expect in 2023.
Also see: Want to fight your office's return-to-work mandate? The law isn't on your side.
(Visited 1 times, 1 visits today)