CHANDLER — Hundreds of visitors came to Sun Lakes Country Club on Wednesday for an Independent Newsmedia event.
The club was the location for INI's Chandler Senior Expo. Local and national vendors brought samples and displays for a comprehensive range of senior products and services.
Tim Boyles and Mary Ellen Meslar of Weichert-Courtney Valleywide talked real estate in their first outing at an INI Senior Expo.
"This event allows us to talk about all kinds of properties and real estate issues that are on seniors' minds," Boyles said. "And, mostly, people who showed up today were appreciative and conversed with us."
Mike Miller of Phoenix ER & Medical Hospital said visitors were inquisitive about his facility and unique business model.
Julie Martin of Farmers Insurance said she had some "great conversations" with several visitors.
Barb Whittenburg of Sun Lakes was one of Wednesday's visitors and is a Sun Lakes resident.
She said she heard about the Expo at a club meeting and was reminded of it by neighborhood signs that were up on the day of the event.
Whittenburg said she was pleasantly surprised to be able to have a conversation with a realtor at the Expo.
"I like going to these things because while you know basically what a senior expo is, you never know exactly what you'll find each time," she said.
Many had giveaways such as free samples, health and wellness screenings and door prize drawings.
If you have or are part of a business that has something that can help provide a healthier, happier and wealthier lifestyle for seniors, join us at an upcoming event. Reserve your sponsorship by email at AZads@iniusa.org or by calling 623-972-6101.
There is no cost for the public to attend INI Senior Expos.


Jason W. Brooks
Associate Editor
@JasonWBrooks2
Jason W. Brooks is an associate editor for the Daily independent.
He covers the Buckeye area and the Maricopa County Board of Supervisors. Brooks is a well-traveled journalist who has documented life in small American communities in nearly all its time zones. Born in Washington, D.C., and raised there and in suburban Los Angeles, he has covered community news in California, New Mexico, Arkansas, Iowa, and Nebraska.
Other items that may interest you
Most popular stories in Daily Independent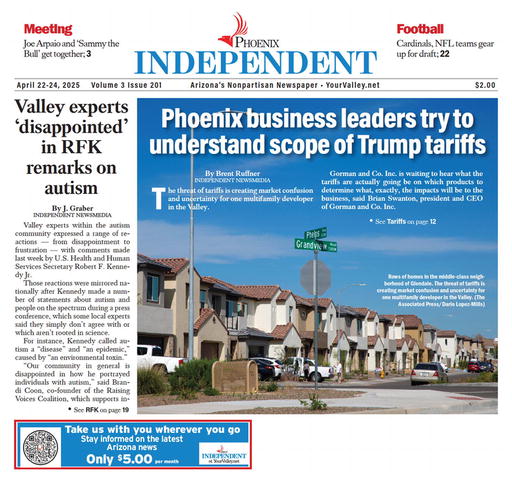 Read the latest print edition here.
View this issue
Browse other issues
Simply submit your e-mail address below, click on the opt-in email link and watch your inbox for news from the Daily Independent at YourValley.net. Thank you for reading!
The Oakland Athletics will try to break their three-game slide when they play the Arizona Diamondbacks.
Court orders South Korean agency to compensate adoptee over his mishandled adoption to US
Desert Mountain scores in clutch to upset Willow Canyon for 5A softball title
Council of Europe summit in Iceland seeks to hold Russia to account for Ukraine war
Dodgers win in 12th on bases-loaded walk, Muncy homers twice to regain major-league lead
More companies help with fertility care, but it is still out of reach for many


YourValley.net
623-972-6101
17220 N Boswell Blvd
Suite 230E
Sun City AZ 85373
Email: azdelivery@iniusa.org
(Visited 1 times, 1 visits today)