The net worth of U.S. households rose by 2% in the first three months of the year to $148.8 trillion, putting it close to a record high and suggesting the economy might have enough fuel to keep growing or at least to avert a steep recession.
Net worth increased by $3 trillion in the first quarter, from $145.8 trillion in the 2022 fourth quarter, according to the Federal Reserve's flow of funds report.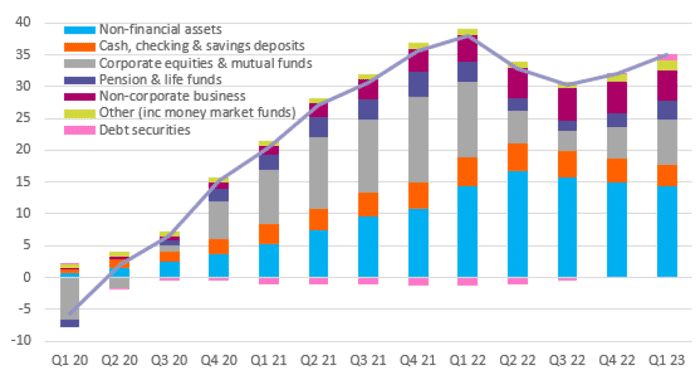 That's not far from an all-time high of $152.6 trillion in early 2022, when households were still flush with cash from government stimulus payments and stock markets were near an all-time high.
Net worth is still sharply higher compared with the year before the pandemic.
"With wealth $35 trillion higher than before the pandemic struck, households continue to have a strong platform to withstand intensifying economic headwinds, which offers hope that any recession will be relatively shallow," said James Knightley, chief international economist at ING.
Many economists think a recession is likely due to rising interest rates orchestrated by the Federal Reserve to tame high inflation. So far there's little sign of one, however.
Most of the increase in net wealth in the first quarter was tied to a rebound in the stock market. The value of equities held by households jumped by $2.4 trillion.
A drop in the value of real estate due to higher interest rates, meanwhile, shaved off a portion of household wealth.
Net worth had dropped in the middle of 2022 after stocks fell and households drew down their savings to cope with high inflation.
Household debt increased at a 2.2% annual rate in the first quarter to $19.2 trillion, marking one of the smallest increases in the past decade. Debt had grown as fast as 8% as the U.S. emerged from the pandemic.
Households also moved more money from banks after the failure of Silicon Valley Bank and other regional institutions in the past few months. They parked more of their cash in banks perceived as safer or in higher-yielding money-market funds.
Bank deposits are still much higher compared with prepandemic levels, however.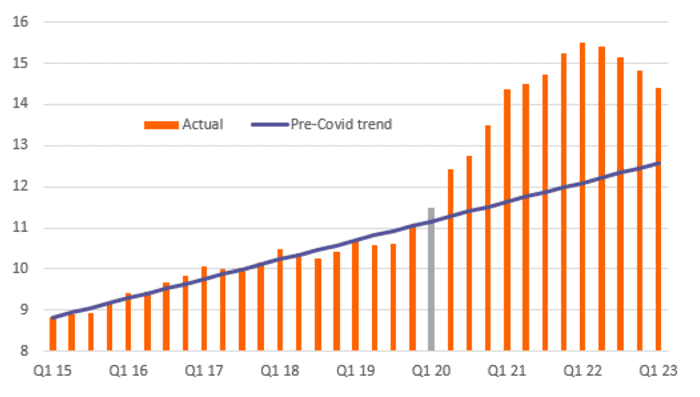 (Visited 1 times, 1 visits today)