Commercial real estate developer Creation has announced the acquisition of 18 acres within the Scottsdale Airpark with plans to develop a $60 million industrial center.
The Phoenix-based company …
Already have an account? Log in to continue.
Current print subscribers can create a free account by clicking here.
Otherwise, click here to subscribe.


To Our Valued Readers –
Visitors to our website will be limited to five stories per month unless they opt to subscribe. The five stories do not include our exclusive content written by our journalists.
For $6.99, less than 20 cents a day, digital subscribers will receive unlimited access to YourValley.net, including exclusive content from our newsroom and access to our Daily Independent e-edition.
Our commitment to balanced, fair reporting and local coverage provides insight and perspective not found anywhere else.
Your financial commitment will help to preserve the kind of honest journalism produced by our reporters and editors. We trust you agree that independent journalism is an essential component of our democracy. Please click here to subscribe.
Sincerely,
Charlene Bisson, Publisher, Independent Newsmedia


Click here to see your options for becoming a subscriber.
Click here create a free account for posting comments. Note that free accounts do not include access to premium content on this site.
Commercial real estate developer Creation has announced the acquisition of 18 acres within the Scottsdale Airpark with plans to develop a $60 million industrial center.
The Phoenix-based company will break ground later this year on Thunderbird Commerce Park, a 243,360-square-foot, Class-A industrial building located east of the southeast corner of Scottsdale and Thunderbird roads. With direct adjacency to the Scottsdale Airport, building features include 51 truck doors, 32-foot clear height, 3,000a power, four electric vehicle dual charging pedestals, 130-foot truck court depth and 322 car spaces.
"Thunderbird Business Park represents an unprecedented opportunity to develop a Class-A logistics/manufacturing building in the highly coveted Scottsdale Airpark submarket," Grant Kingdon, the newly promoted principal of Creation's Mountain West Region said in a written statement. "This submarket is highly supply-constrained and typically boasts the highest rental rates and tightest vacancy levels in the Phoenix-metro market. The building is designed with features that will attract a wide array of tenants including companies in the pharmaceutical, aerospace, electric vehicle and semiconductor sectors, plus traditional distribution and showroom users."

According to commercial real estate firm JLL, Arizona's manufacturing job growth rate over the last year is more than double the U.S. rate.Nationwide, the state also ranks No. 1 in chip manufacturing and investment and No. 3 for semiconductor manufacturing.
Creation sourced this land on an off-market basis and is currently processing entitlements through the City of Scottsdale. The company has engaged award-winning LGE Design Build as the general contractor and LGE Design Group as the architect. Completion is expected in late 2024.
Founded by David Sellers and Bob Agahi in 2018, Creation's portfolio includes $4.65 billion of ground-up developments in major growth corridors of Arizona, Texas, California, Colorado, Tennessee, New York and New Jersey.
This year, the company expects even further growth with nearly $1.5 billion in mixed-use office, retail and multi-family projects in the pipeline. The firm recently made its debut on Inc. Magazine's Inc. 5000 list, making it one of the fastest-growing companies in America. For more, visit CreationEquity.com.
Other items that may interest you
Most popular stories in Daily Independent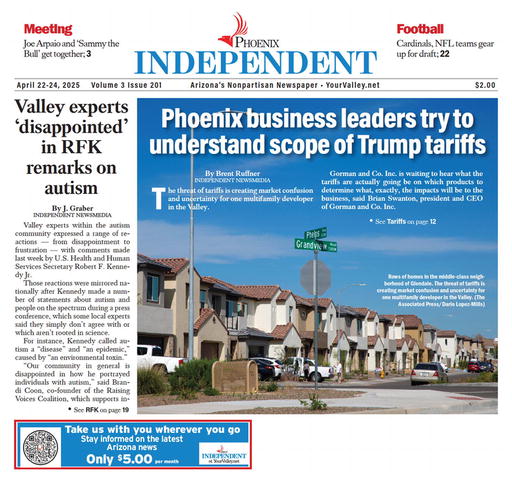 Read the latest print edition here.
View this issue
Browse other issues
Simply submit your e-mail address below, click on the opt-in email link and watch your inbox for news from the Daily Independent at YourValley.net. Thank you for reading!
Ryan Noda hit a tying grand slam in the seventh inning, Esteury Ruiz drove in the winning run with an infield single that bounced off shortstop Nick Ahmed in the 12th and the Oakland Athletics beat …
Australia: Truck driver charged after 7 children seriously injured in collision with school bus
Nepal's Sherpa guide regains title for most climbs of Mount Everest after 27th trip
Former British Prime Minister Liz Truss warns of China threats during Taiwan visit
Takeaways from AP report on racial disparities in states' victim compensation programs
Black victims of violent crime disproportionately denied aid in many states


YourValley.net
623-972-6101
17220 N Boswell Blvd
Suite 230E
Sun City AZ 85373
Email: azdelivery@iniusa.org
(Visited 2 times, 1 visits today)