Casino Arizona and Talking Stick Resort, enterprises of the Salt River Pima-Maricopa Indian Community (SRPMIC), announced the appointment of John Dinius as President and Chief Executive Officer …
Already have an account? Log in to continue.
Current print subscribers can create a free account by clicking here.
Otherwise, click here to subscribe.


To Our Valued Readers –
Visitors to our website will be limited to five stories per month unless they opt to subscribe. The five stories do not include our exclusive content written by our journalists.
For $6.99, less than 20 cents a day, digital subscribers will receive unlimited access to YourValley.net, including exclusive content from our newsroom and access to our Daily Independent e-edition.
Our commitment to balanced, fair reporting and local coverage provides insight and perspective not found anywhere else.
Your financial commitment will help to preserve the kind of honest journalism produced by our reporters and editors. We trust you agree that independent journalism is an essential component of our democracy. Please click here to subscribe.
Sincerely,
Charlene Bisson, Publisher, Independent Newsmedia


Click here to see your options for becoming a subscriber.
Click here create a free account for posting comments. Note that free accounts do not include access to premium content on this site.
Casino Arizona and Talking Stick Resort, enterprises of the Salt River Pima-Maricopa Indian Community, announced the appointment of John Dinius as president and chief executive officer.
The news comes following an extensive national search by the Salt River Enterprises Gaming Board of Directors, according to a press release.
"The depth and breadth of John's experience make him the ideal CEO to take Casino Arizona and Talking Stick Resort to the next level," Bernice Cota-Gann, chair of the Salt River Enterprises Gaming Board of Directors, said in a written statement. "His appointment comes at an exciting time for our properties as we ready ourselves to mark many milestones in the weeks, months and years to come. Among them, a major renovation at Talking Stick Resort as well as the 25th anniversary of Casino Arizona."
Dinius brings more than two decades of experience in gaming at casinos across California. Most recently, he served as CEO of Table Mountain Casino in Fresno, Calif. Under his leadership, the property opened a new multi-million dollar casino-resort.
Prior to his time at the Table Mountain properties, Dinius, spent over 20 years with Sycuan Casino Resort. There, he started as a bingo pull tabs clerk working his way up, holding positions at nearly every level within the casino. Those jobs included slot attendant, operations manager, slot director and more.
Eventually, Dinius was appointed general manager helping the property set an array of records and achievements. As general manager, he increased visitation at Sycuan Casino Resort and made significant innovative changes to the property such as growing the casino's loyalty player program by increasing the amount of cash back to its highest levels. He also established the largest non-smoking gaming area, long before the pandemic led many to end smoking in casinos. Playing a key part in these large-scale initiatives and his wide-range of experience has given Dinius unique insights into the inner workings of the gaming and hospitality industries.
"I am honored to join Casino Arizona and Talking Stick Resort. The properties have stellar reputations within the industry and are market leaders within the State," Dinius said in a written statement. "My goal is to help each property grow and evolve, while maintaining their position as the standard bearer for gaming and hospitality. All of this with the purpose of supporting the Salt River Pima-Maricopa Indian Community."
Dinius replaces Dennis Leong following his retirement at the end of 2022. Leong served as president and CEO for Casino Arizona and Talking Stick Resort for 13 years.
"Dennis brought professionalism and elegance to Casino Arizona and Talking Stick Resort," Cota-Gann said in a written statement. "He has served our Enterprise loyally, guiding us through times of hardship and great prosperity. We are grateful for his leadership and wish him all the best."
Casino Arizona and Talking Stick Resort are two of the leading attractions in the Valley. Together, they are home to 2,500 state-of-the-art slot machines, numerous table games and keno. This year, Casino Arizona will celebrate its 25th anniversary and recently opened a new bingo hall and taqueria.

Talking Stick Resort opened in 2010. It is home to 497 guest rooms, three pools and 10 restaurants and lounges. In 2022, the resort opened a new arena poker room. Talking Stick Resort has also announced an exciting lineup of new events and partnerships.
In February, the Resort will host Superzona, a weekend of superstar performances from Snoop Dogg, Diplo, 21 Savage, Lil Jon, Machine Gun Kelly, the Chainsmokers and more. The Resort will also enter into the second year of partnerships with WM Phoenix Open and the Arizona Diamondbacks. Also, the resort just announced a naming-rights agreement with Live Nation for its outdoor venue in the West Valley, now called Talking Stick Resort Amphitheatre.
For more information on Casino Arizona or Talking Stick Resort, please visit www.casinoarizona.com or www.talkingstickresort.com.
Other items that may interest you
Most popular stories in Scottsdale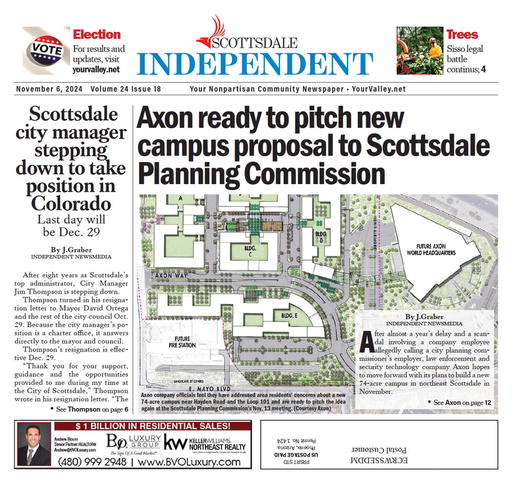 Read the latest print edition here.
View this issue
Browse other issues
Simply submit your e-mail address below, click on the opt-in email link and watch your inbox for news from the Daily Independent at YourValley.net. Thank you for reading!
In the years following the pandemic, many people are struggling with their mental health.
Scottsdale Center for the Performing Arts announces 2023–24 season
The Brokery opens new Scottsdale real estate office
Scottsdale Police seeking public help in firearm discharge incident
McCormick Ranch Women boost golf exchange
Kenny: Your health is in your hands during American Stroke Month


YourValley.net
623-972-6101
17220 N Boswell Blvd
Suite 230E
Sun City AZ 85373
Email: azdelivery@iniusa.org
(Visited 1 times, 1 visits today)