Capitall Introduction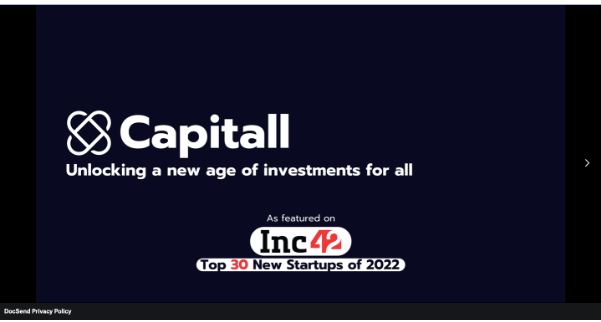 In today's rapidly evolving business landscape, startups and Micro, Small, and Medium Enterprises (MSMEs) drive innovation and economic growth. However, securing adequate financing to bring their ideas to life and scale their operations is one of these enterprises' most significant challenges. 
That's where Capitall Club comes in. Whether you are an aspiring entrepreneur looking for capital or an investor seeking lucrative opportunities, the platform offers a unique space where your financial dreams can become a reality. This blog will discuss its features and how it can benefit you as an investor. 
What is Capitall Club?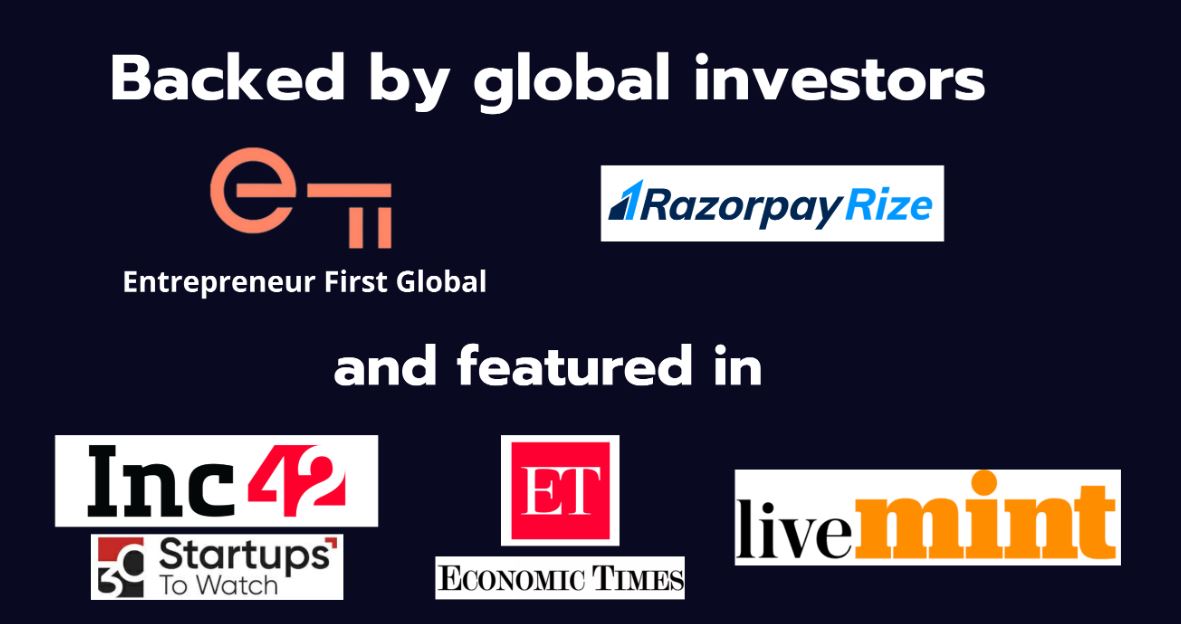 Capitall is an investment platform that allows you to lend money to high-growth companies and make fixed monthly returns. With Capitall, you can lend money directly to startups and MSMEs, giving them the financial boost they require to expand. In exchange, you can enjoy fixed monthly returns on your investments. With Capitall, you can skip traditional investment options that have unpredictable returns. 
Capitall Club Founders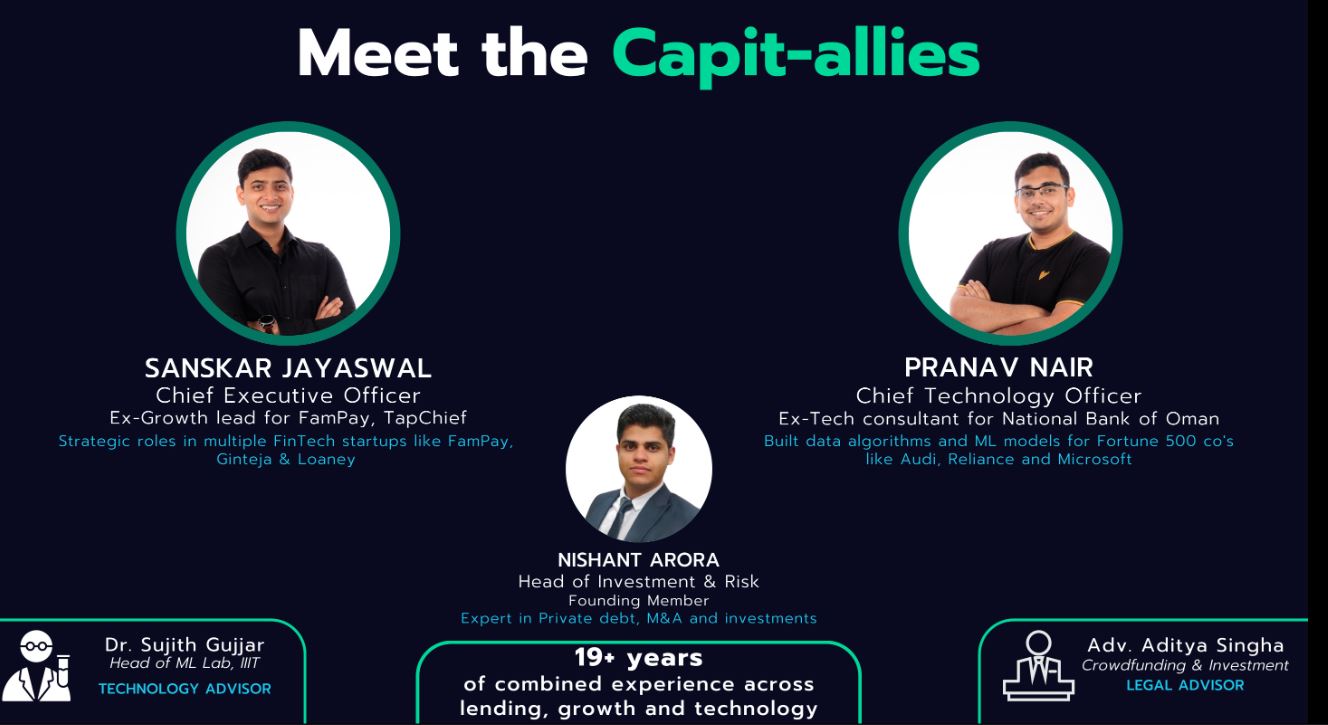 Capitall is backed by Entrepreneur First and Razorpay Rise. They are in the process of raising larger funding in the next few weeks. Below are the key members of the team
Sanskar Jayaswal

is the CEO of Capitall and is Ex- the growth lead for Fampay and TapCheif. He has worked with Fintech startups such as FamPay, Ginteja, and Loaney. 

Nishant Arora

is the Head of Investment and Risk Founding Member. He specializes in Private debt, M&A, and investments.

Pranav Nair

is the Chief Technology Officer and is Ex- Tech consultant for the National Bank of Oman. He is an expert in building data algorithms and ML models for Fortune 500 companies such as Audi, Reliance, and Microsoft. 
What is Capitall Business Model?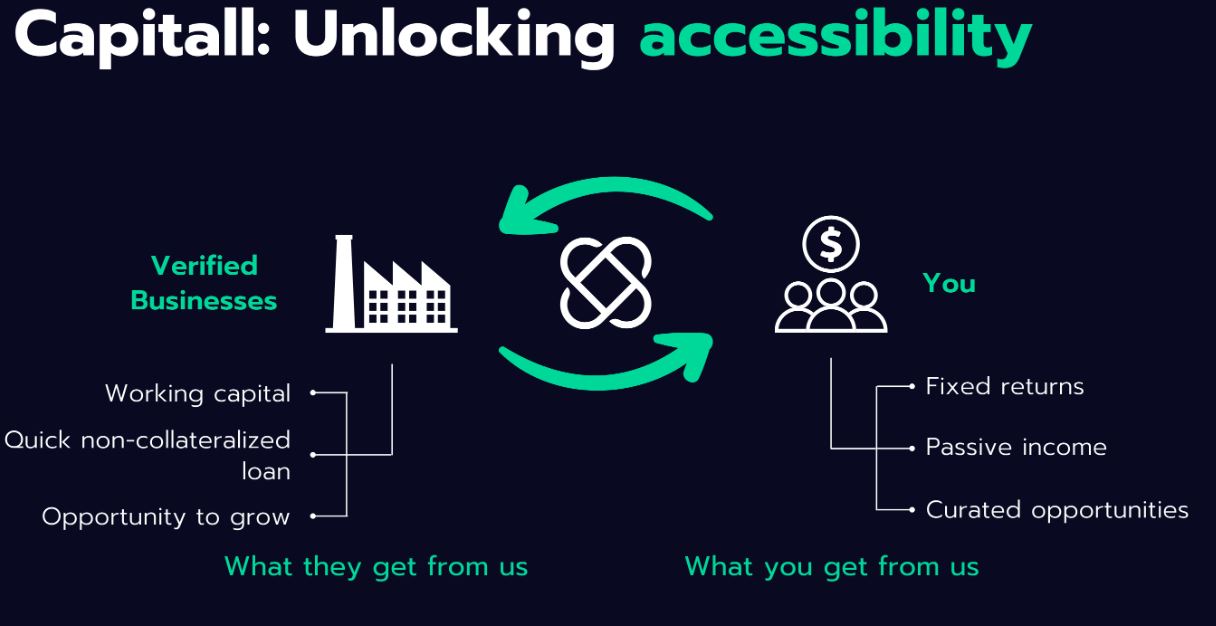 The business model of Capitall is to connect investors with start-ups and MSMEs in need of funding. The platform works as a peer- to peer lending platform that facilitates the lending process between borrowers and lenders. 
Individual or institutional investors looking for investment opportunities can browse through the available loan requests on Capitall, and they can assess the profiles of the borrowers, including their business model, financial projections, and risk profiles, to make an informed decision. 
On the other side, Startups and MSMEs seeking capital can apply for loans through the platform by providing details about their business, financials, and growth prospects. Then, Capitall's team evaluates the applications and conducts due diligence and risk assessments to select qualified borrowers. 
You, as an investor, have the freedom to select the loan request you want to fund, and once the loan is disbursed, borrowers repay the loan with interest every month. Capitall earns revenue from various means, including transaction fees, loan registration fees, and interest rate spreads. 
Why do SMEs need small Loans?
Working Capital is the short-term capital required to run operations smoothly. It includes buying raw materials, purchasing inventory and paying vendors, etc. Even though the turnover of the company can be in crores they are always looking for short loans to meet the daily requirements.
Features of Capitall Club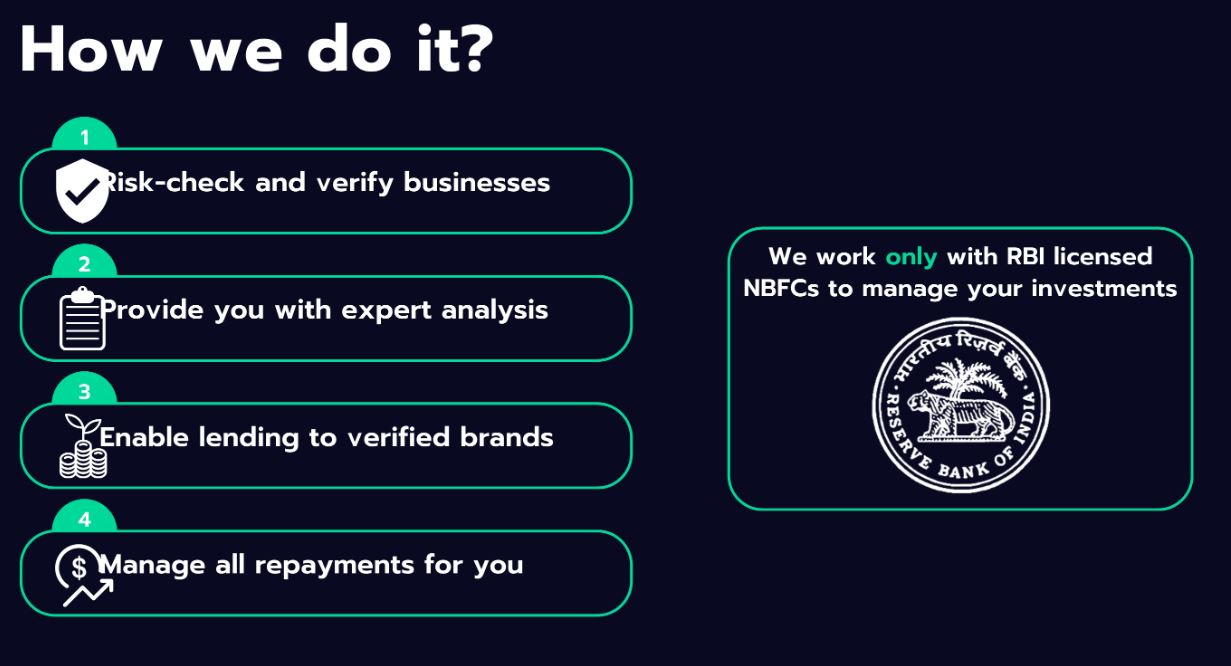 Verified Companies:

Capitall ensures that all the companies seeking funding through the platform undergo a verification process and conduct a background check such as the company's financial health, credibility, and potential growth so that you can have transparency while investing.

Detailed Analysis:

The platform provides you with a detailed analysis of the loan requests and the companies behind them, allowing you to make informed decisions while investing.

Attractive Returns:

Capitall offers attractive investment returns by lending money directly to high-growth companies. You can enjoy fixed monthly returns on the capital.

24/7 Support:

Investors and borrowers can access support services anytime, as the platform is dedicated to providing excellent customer support. 
How does Capitall Manage Risk? 
To mitigate risk Capitall follows multiple steps at every point of the loan lifecycle
Analysis by Experts:

Capitall employs a team of experienced risk managers who thoroughly analyze loan applications and asses the potential risk associated with each borrower.

Data Verification:

Capitall verifies the financial information provided by the borrowers through bank statements, Goods and Services Tax (GST), and Credit Information Bureau (CIBIL) reports. 

Proprietary AI Algorithm to Identify Financial Red Flags:

The platform uses a proprietary AI algorithm that scans and analyses various financial indicators to identify potential red flags, such as financial instabilities or fraudulent activities, if any. 

Constant Financial Analysis:

Capitall continues assessing the financial performance of the borrowers even after the loan is disbursed. They conduct regular financial analyses to monitor the borrower's loan repayment ability. 

Short-Term Tenure to Avoid Risk of Defaults:

The tenure of the loans is short-term to reduce the risk of defaults and improve the platform's liquidity. 

Automatic Debits Directly from the Borrowing Brand:

The platform allows automatic debit systems where the loan repayments are directly debited from the borrower's account, ensuring a streamlined repayment process and reducing the chances of default or late payments. 
Products Offered by Capitall
Business Loans

: You, as an investor, can lend money directly to high-growth companies and MSMEs looking for funding and earn a fixed monthly return on their investments.

Personal Loans:

Capitall allows you to invest in private lending by lending to individuals, allowing you to earn returns.

MSME Loans:

You can invest in loans designed for Micro, Small, and Medium Enterprises and earn a fixed return in exchange.

Startup Loans:

The platform also offers you to provide loans to start-ups and benefit from the growth of the start-up. 
Current Deals
Capitall Club provides an opportunity to fund the working capital of Small and Medium-sized enterprises. The current Deal live on the platform is for 3 months and offers 15% IRR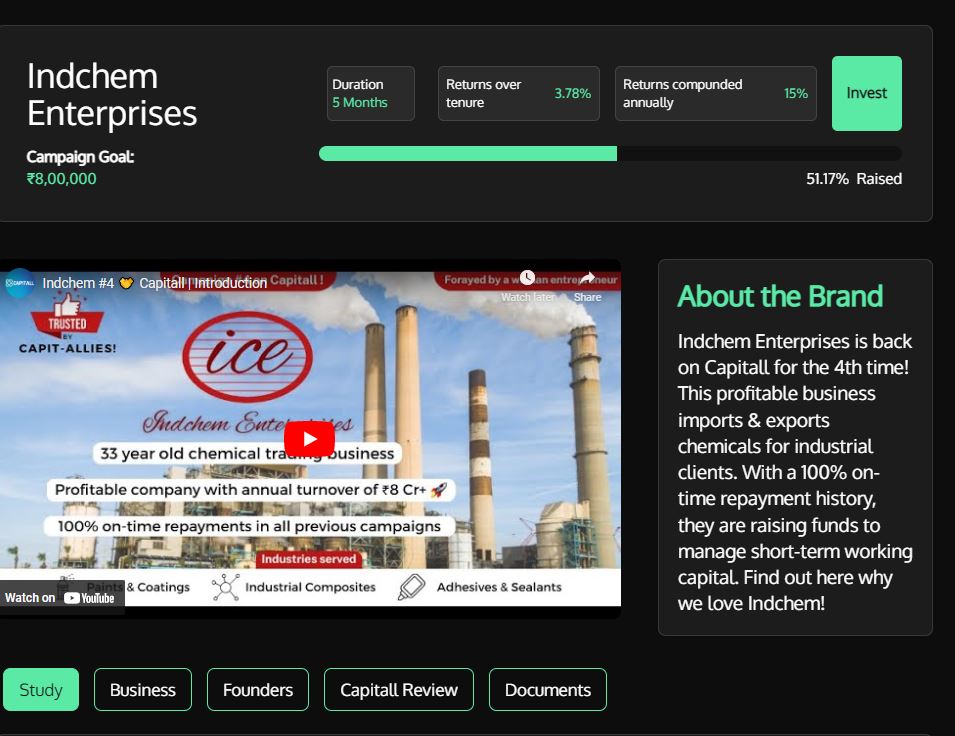 Investment experience with Capitall

To date, I have invested in 4 deals on Capitall with multiple investments in one brand. The cash flow has been on time with few prepayments on some deals. The IRR for the deals has been approximately 15%. Details of the deals in which I had invested are :
Indochem
 Truky
Cosiq
Linoui
Capitall Alternatives
Some more peer-to-peer investing platforms and bond platforms offer similar services to Capitall. Here are some:
Wint Wealth:

It is a platform that lists bonds offering 10%+ yield to investors. They do the research and credit analysis of the bonds. Most bonds are senior secured. 

Lendbox:

It is another platform for peer-to-peer lending and provides a common platform where borrowers can seek loans and investors can lend money to earn returns. It provides an option to get instant liquidity and returns upto 11.5%

India P2P:

It refers to the peer-to-peer lending platform where individuals and businesses can directly lend and borrow money through online platforms. It is focused on women borrowers and returns up to 18% can be achieved. 

Liquiloans:

An online peer-to-peer lending platform that connects borrowers who need short-term personal or business loans with individual investors. They allocate the capital without investors required to analyze borrowers. They offer instant liquidity options also.
How to Invest from Capitall? 
Step 1: Use the above link to open Capitall's official website and create an account by signing up; provide the necessary details.
Step 2: Complete the verification process by submitting the required documents and adding funds to your account.
Step 3: Explore the investment opportunities available on the platform. You can review the essential details about the borrowers, loan terms, interest rates, etc.
Step 4: Carefully review the information provided for each opportunity, such as risk profile, creditworthiness, and the use of funds.
Step 5: Select an investment that matches your investment goals and risk appetite, specify the amount you wish to invest, and then submit your investment request through the platform. 
Step 6: After investing, you should monitor the performance of your investments from your account and stay informed about any updates and changes regarding the loan you have invested in. 
Conclusion
By bridging the gap between lenders and borrowers, Capitall creates a win-win situation that empowers startups and MSMEs to access much-needed funding and allows investors to diversify their investment portfolios and earn returns. However, it is a new platform and hence I am only allocating a small capital to it. Over the next few months, we can consider deploying more capital if the performance is consistent
Frequently Asked Questions (FAQs)
While all investments carry some risk, Capitall mitigates the risk by following measures such as borrower analysis, data verification, and constant financial analysis to minimize the potential risk associated with lending. But there is always some risk of borrower default or market volatility that you should be aware of. 
How much return do you get from Capitall?
The return starts from 15% p.a. However the return on investment from Capitall varies depending on various factors such as the loan terms, borrower performance, and market conditions. The specific percentage may differ for each investment opportunity. 
What is the minimum investment required to invest from Capitall?
You can start investing for as low as Rs. 5,000. However, it may vary depending on the specific loan opportunities available on the platform. Therefore, it is advisable to refer to the investment details provided by Capitall for each loan opportunity. 
What are the benefits I get from Capitall as an investor?
As an investor, you get several benefits, such as portfolio diversification by lending to multiple high-growth companies and attractive fixed monthly returns on investment. Also, the platform provides transparency through detailed borrower information.
(Visited 1 times, 1 visits today)